What are the most popular dishes made from zucchini? Of course, the very first thing is fried zucchini, and behind them it is squash caviar. We talked about fried zucchini and cooked them more than once, which is why today on the agenda is fragrant and tasty squash caviar.
Squash know and tried for sure all. Some people think that it is easier to buy it in the supermarket, but I completely disagree with this opinion. After all, buy squash caviar with taste and texture, familiar to us since childhood, is almost impossible. Home-made caviar is so tasty that it can safely compete with industrial recipes.
Due to the diverse composition of the vegetables in its recipe, you can always get different flavors of caviar. Moreover, it can be successfully added with other ingredients: eggplants, carrots, tomatoes, bell peppers, plums, apples, greens, etc. From the use of each product, the flavor bouquet of caviar is only more enriched.
Well, now let's move on to making a fragrant, delicate and very appetizing snack, which is excellent in both the daily menu and the festive table.
Degree of difficulty – easy.
Time for preparing – 40 minutes.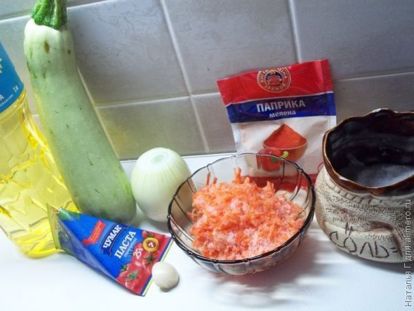 One zucchini
One carrot
One onion
One clove of garlic
2 tbsp. l tomato paste
Cooking oil for frying
0.5 tsp paprika
Salt to taste
Peel the onions, wash and cut into cubes. Carrots also peel, wash and grate, or cut. My carrot was frozen, as it was left uneaten since last winter, but you use fresh.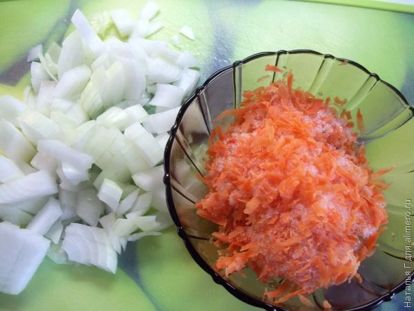 Heat the pan with vegetable oil and send it to fry carrots and onions.
Wash zucchini, cut the tips on both sides and clean.