In the season of new fruits and vegetables is the time to think about preparations for the winter. Indeed, on cold days, we acutely feel a lack of vitamins. I want to share with you a very simple recipe from which I once started canning. This will be the preparation for the winter of zucchini.
I remember how as a child, parents bought canned zucchini in the store. And for me there was nothing tastier than warm mashed potatoes with such slightly spicy vegetables. I loved them more than tomatoes and cucumbers, without knowing why.
Time for preparing: 45-50 minutes.
To prepare one jar (700 ml) of canned zucchini, we need:
1) 500 g raw zucchini
2) 1 tablespoon of sugar
3) 2 teaspoons salt
4) 40-50 grams of vinegar
5) black peas
6) half a bunch of old dill
7) 4-5 cloves of garlic
Squash thoroughly washed.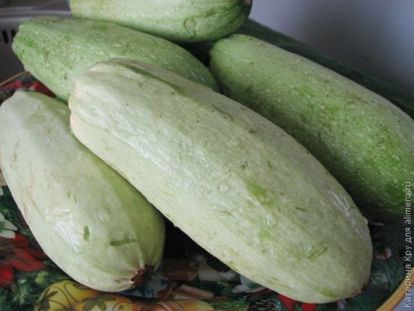 We cut their edges and cut vegetables into circles, about 3 cm thick.
Banks wash and sterilize them. I, lately, put a pot of water to boil, put a colander in it, and a jar on it. And after 5-10 minutes of boiling water, put the next container.
Dill branches with horseradish leaves and cherries after washing leave to dry from excess liquid.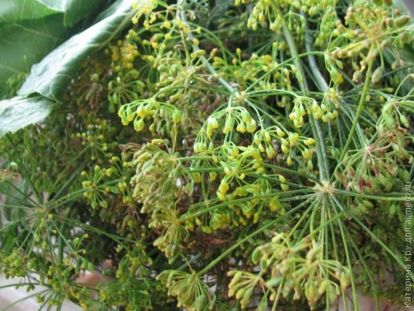 When the greens are prepared, put it 2/3 into dry sterilized jars.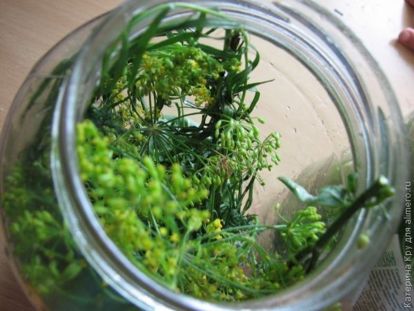 Top lay circles zucchini.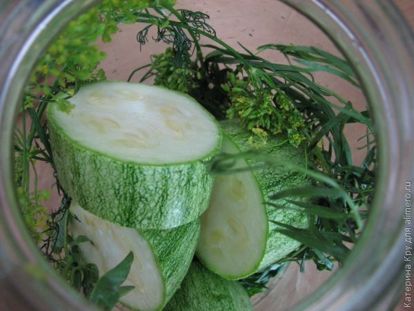 Garlic peeled and put in vegetables.
Fill it almost to the top with zucchini. Put the remaining dill and some black peas.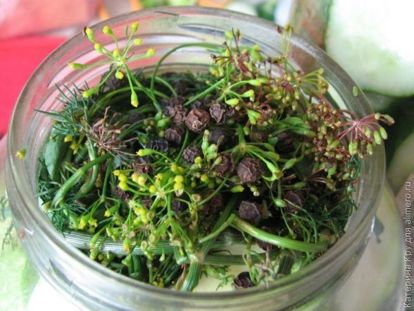 Pour water into a saucepan and bring it to a boil.
Pour salt and sugar there. Boil a minute, then add vinegar and turn off the gas.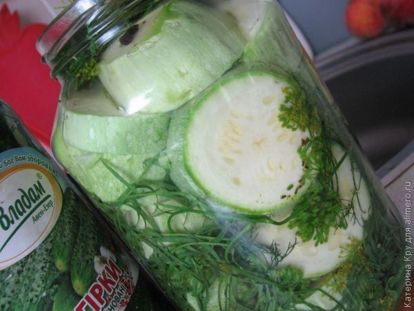 Pour marinade zucchini in a jar and after 10 minutes pour the liquid back into the pan, boil and pour the vegetables again. We roll up the cans and turn them upside down, covering them with a blanket.
When the banks have cooled completely, turn them over and remove them to a dark place before winter.