Today I want to share with you one of my favorite dishes. These stuffed tomatoes are great as a snack. They prepare very simply. You only need to spend a little time to carefully prepare the vegetables.
I love this dish because it includes my favorite fish. Any salty fish will do: herring, mackerel and even hamsa.
I usually cook them with sprat or hamsa, but today I used herring.
Time for preparing: 15-20 minutes.
To cook stuffed tomatoes, we need:
1) 1 kg of fresh tomatoes
2) 1 small salted herring
3) 1 small onion
4) 1 tablespoon balsamic vinegar
5) mayonnaise
6) 2-3 medium sized apples
7) greens for decoration
First you need to prepare the filling.
Peel the onion and chop it with a sharp knife.
We shift the onion in a small plate and pour a tablespoon of vinegar. Add refined water so that it covers the entire onion.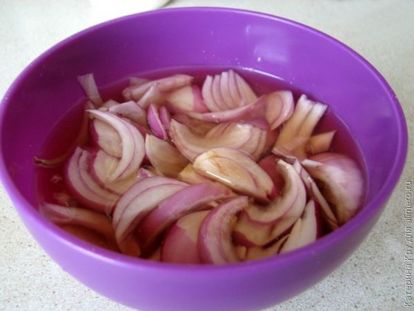 Leave to pickle the onion for fifteen minutes.
If you do not have time, then fill the onion with pure vinegar for five minutes.
We clean the herringbone from the skin, viscera, head and skeleton.
Cut the fillet into small cubes.
Add the onion to the herring.
Apple cut into small cubes.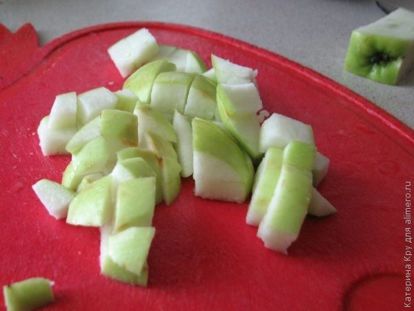 Put sliced ​​fruit in a plate with onions and herring.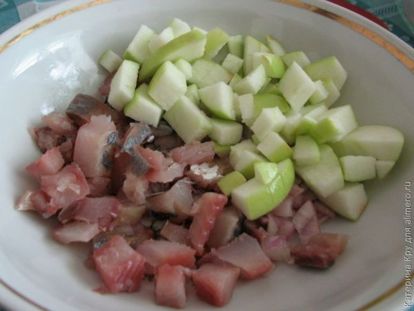 Fill the mixture with homemade mayonnaise.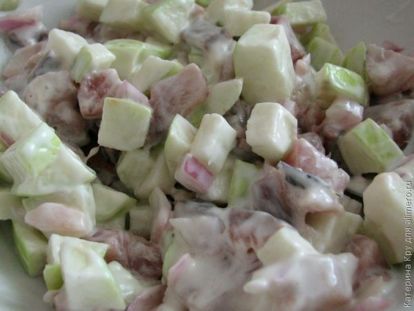 We proceed to the preparation of the tomato.
Using a small, sharp knife, cut a crown on top of the vegetable.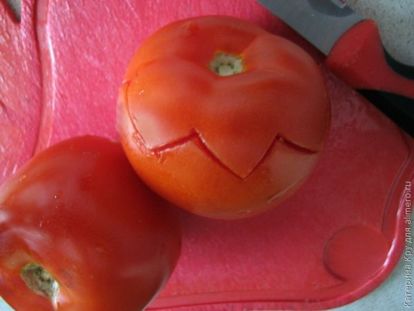 Slightly lifting the edge of the cap, cut it at the base, if necessary.
Using a teaspoon take out the pulp of the tomato. It is not useful to us in this dish.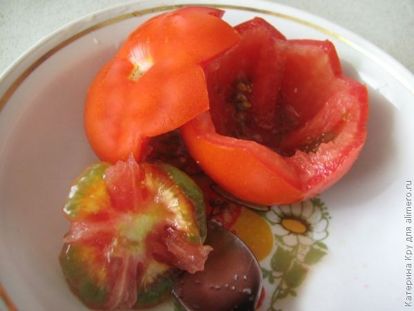 Put the spicy stuffing into the prepared vegetables and cover with the caps.
We spread the stuffed tomatoes on a dish with greens and serve.
The filling is very juicy and tasty.
To my surprise, even my daughter ate with such pleasure and asked for more fillings (she did not notice the onions).