Garden, tasty tomatoes will soon depart, and again you will have to buy them in the store.
As a rule, they are tasteless, odorless in winter. But, while there are still remnants of the harvest from the dacha, I manage to prepare them in every possible way.
Tomatoes in jelly to taste as fresh. With this preparation, all products are eaten, not only tomatoes, but also onions with garlic. And the marinade itself is a great addition to them.
Ingredients 2 cans of 0.5 liters.:
for marinade:

– water 0.5 l
– granulated sugar 1 tbsp. spoon
– salt 1 tbsp. spoon
– gelatin 1 tbsp. spoons
– Vinegar 2 tbsp. spoons
Time for preparing: food preparation 30 minutes sterilization 15 minutes.
Cooking process:

To cook tomatoes in jelly, I chose small tomatoes, for more convenient placement in a jar. Well washed, cut in half.
Some tomatoes, which are larger, cut into quarters, removing the place of the stem.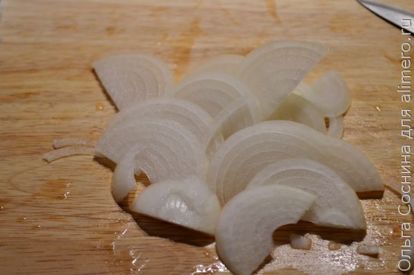 Garlic washed, divided into cloves. Large teeth cut into thin plates.

Banks and lids prepared in advance by sterilizing them.
Banks filled with tomatoes, adding them without much consistency (as it happened).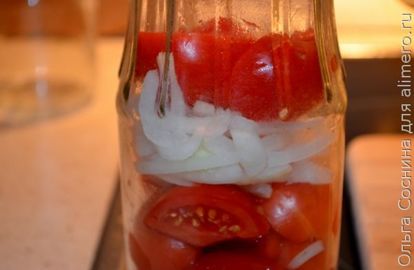 Layers of tomatoes shifted layers of onion.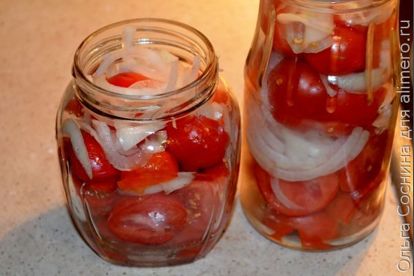 When the jars were almost filled, a layer of garlic was added on top.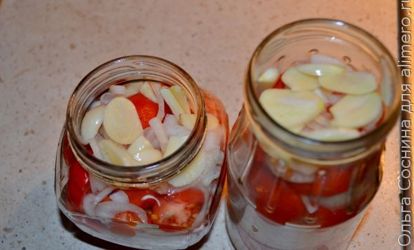 Then she added spices: dill seeds, allspice.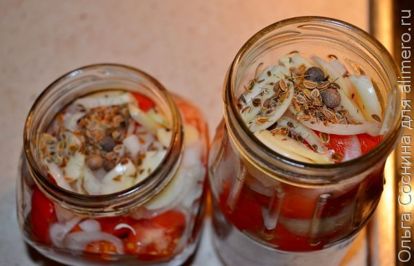 I finished laying spices with bay leaves.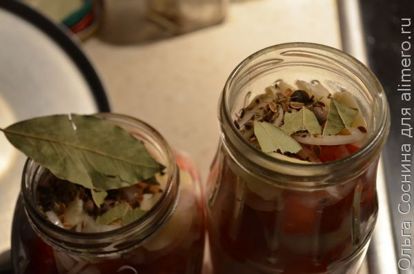 In a measuring cup put salt, sugar, poured boiling water, stirred, added vinegar.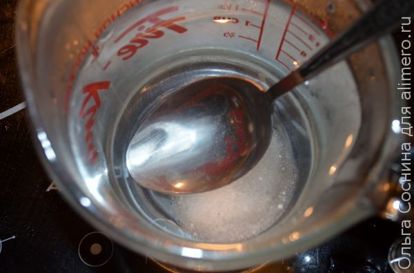 Gelatin which has swelled up to this time has here poured out. Marinade stirred until complete dissolution of the ingredients, poured into jars.
At the bottom of the pan put a rag, poured warm water and put the banks. Covered with lids, but not wrapped.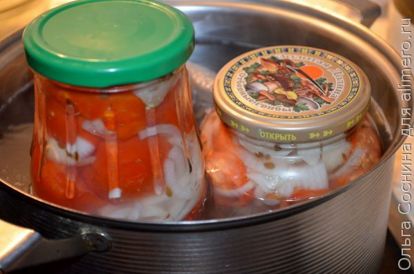 Sterilized 15 minutes. Then she closed the jars tightly with lids, took out of the pan, turned the top upside down and covered with a towel. Cooled banks removed in the cold.