Our local tomatoes are coming to an end. I decided not to miss the opportunity and close the jar of delicious billet. I confess that in my family there are no special lovers of canned tomatoes. But this recipe is special for us.
And its name is not accidental – namely tomatoes and onions, not tomatoes with onions. The fact is that onions here act on the same rights as tomatoes, and not just as an addition. For me personally, the value of this conservation is in it! 😉
Level of difficulty: small
Time for preparing: 1 h 10 min.
Amount: one 2-liter can
Tomatoes for such a twist, I chose a small size (a little more cherry), tight, good (no defects).
First of all, I cleaned them up well, and then – I made punctures with a large needle around the place where the stem was. I always do this – thanks to this simple manipulation, tomatoes do not crack.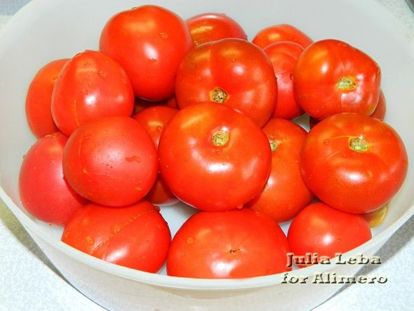 Onion cut and disassembled rings.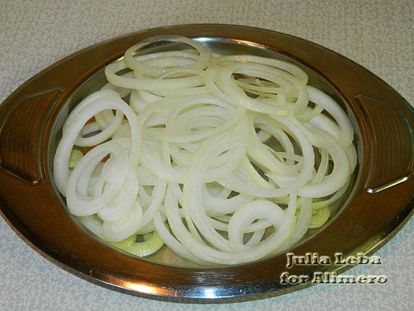 Cherry and black currant leaves are well washed.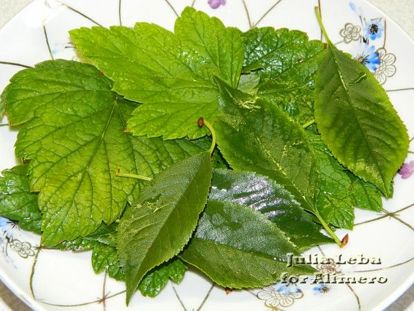 I collected spices that will be present in the jar – bay leaf (I took 3 small for 1 jar), cloves, black and allspice peas (all – 9 pieces each).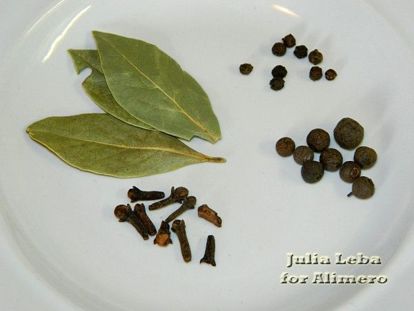 She put the marinade on the stove – poured a liter of water into the saucepan, covered sugar and salt. Brought to a boil, let the roots (parsley and horseradish), a fringer halo. Boiled for about 3-5 minutes.
At this time, began to fill the sterilized jar. At the bottom laid out a few leaves of cherries and currants, a little onion and all the spices.
Then the most densely laid tomatoes, alternating onions and leaves.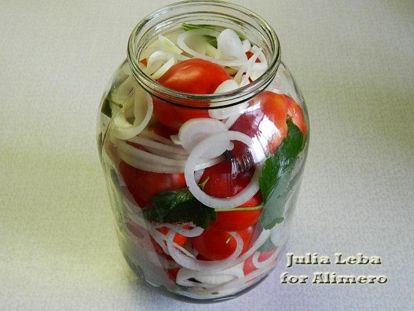 Poured the boiled marinade. Covered with a lid and then a heating pad. Gave so stand for 15-20 minutes.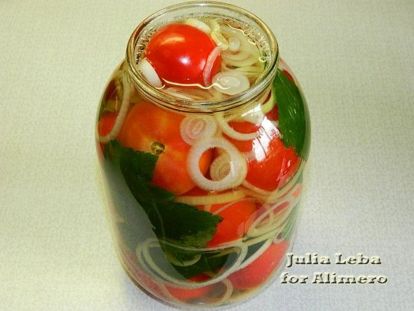 Then poured the marinade back into the pan, again brought to a boil and boiled for another 3-5 minutes. Again poured it into the jar. Added acetic acid and rolled up the key.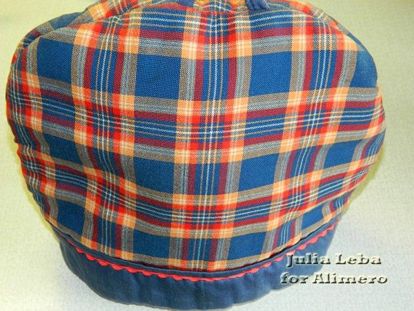 Covered with a heating pad to cool completely.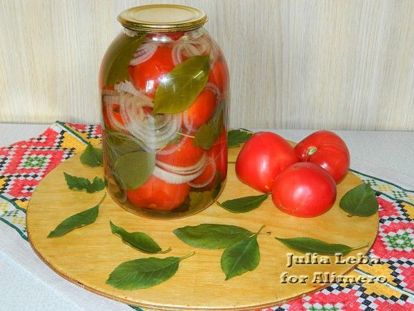 And after that sent to storage in the pantry.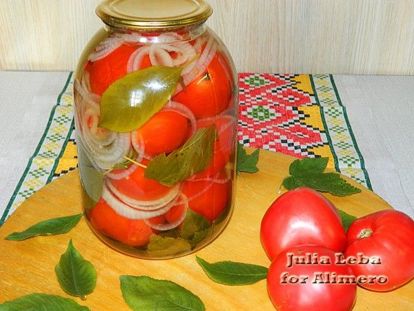 We will open this jar for one of the winter holidays. Eat tomatoes … Well, and the onion will disperse first of all, because it turns out incredibly tasty! 😉