Squash with vegetables in a pan – a quick and tasty summer dish. Although why summer? It can be cooked in the fall. By the way, autumn in two days? Who had time to miss? Personally, I do not like autumn, even despite the fact that I was born in autumn. Here we have a terrible wind near the sea, every day, and so there is little pleasant. And the rain, but this is the little things.
They say that nature has no bad weather, as there is no bad time of year. We used to complain. that it is too hot in summer, it is too cold in winter, the wind in autumn, and rain in spring. In general, I'll start with myself and look for a positive in the first days of autumn. I'll start with a photo shoot. In the autumn on the background of orange foliage get great shots. Here is the first positive.
By the way, today's dish can be considered positive. And in the fall you can cook it at least every day, the main thing. collect the right ingredients.
To cook the squash with vegetables, you need tatie products:
Preparation time: about 30-35 minutes
Difficulty: minimal
For starters, onions. We clean it and cut it into small pieces.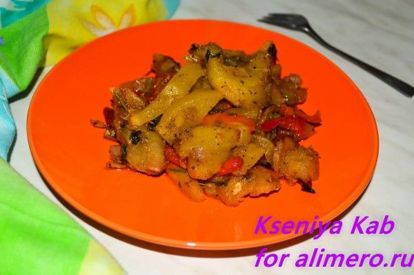 Finished squash with vegetables can be served warm or chilled. They perfectly complement the meat or fish dish.