Today I decided to make one simple, but very tasty dish – crumbs with onions. Such donuts can be used as a snack for tea or instead of bread for soup.
If you have ready yeast dough on hand, then this dish will take quite a bit of time.
I usually fry such crumbs in the pan, but you can cook them in the oven.
Time for preparing: for kneading dough – 50 minutes, for frying puffs for 30 minutes.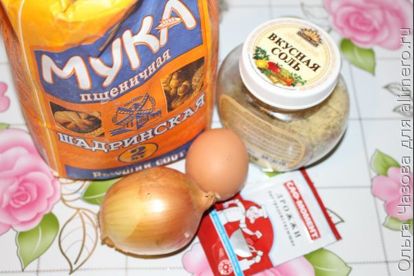 Working process:

The most important thing in the donuts is the dough. As the dough knead, they will be. You can buy dough in the store. But I know from experience that the dough from the store is much different from the self-made. As they say, One Much, but not those pens !. Therefore, I prefer to put the yeast dough yourself. Moreover, with the advent of dry instant yeast, it became not at all difficult.
For dough, I usually take a deep pan or an enamelled kitchen basin. It depends on how much test I need.
We start to knead the dough. Pour flour in a saucepan – 500 grams.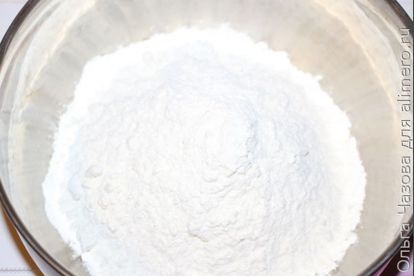 Add dry yeast to flour based on the amount specified in the instructions.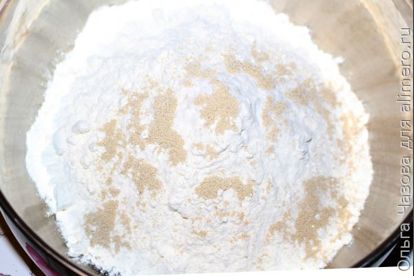 Then there we break the chicken egg. Add water. I first added one glass of water. Then pour a little in the process of mixing. In general, I got 2 cups. The amount of water can be a little more or a little less, how much dough will take. Pour in 2 tablespoons of sunflower oil. Stir well.
Leave the dough in a warm place. After 40-50 minutes, it should rise.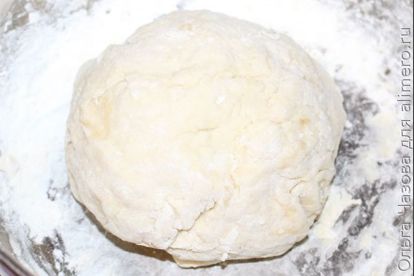 Now we take a large onion. Peel it off the peel. And cut into cubes. Dip the onion in a buttered pan and sprinkle with Tasty salt or any other seasoning.
Fry onion until golden brown. And leave it to cool until our dough rises.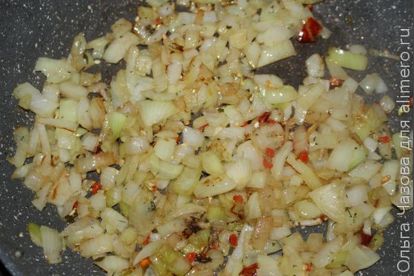 When the dough has risen and increased in size, add the fried onions. Mix well.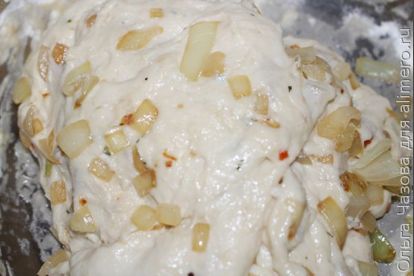 Making dough sausage. Divide the sausage into small balls. Each bun is slightly flattened by hand or you can use a rolling pin.
Pour the sunflower oil into the pan and fry the donuts on both sides under the lid closed.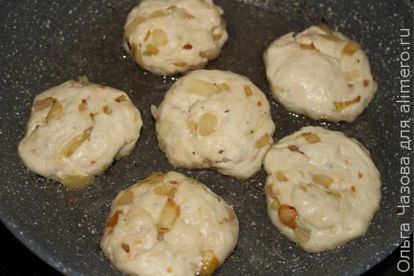 That's all, buns with onions are ready! You can serve them with sour cream, ketchup or just like that.