Summer is in full swing and impulsively pleases us with its gifts! So, now it's just right to be actively engaged in your favorite blanks, preparing for winter!
Every year I certainly cook a jar or two of dried tomatoes – an amazing snack for all occasions! And my today's recipe about one of the variants of such a blank is together with Bulgarian pepper.
In order to prepare a jar of such dried tomatoes with bell peppers, you and I will need:
The complexity of the recipe: nothing complicated here – the main attention and patience
How much time is needed: a couple of hours you need to select
The course of the proposed actions during the preparation of dried tomatoes with bell peppers:
When choosing tomatoes for this preparation, preference should be given to the most dense and resilient instances of the cream variety – I confess that they are most appealing for drying.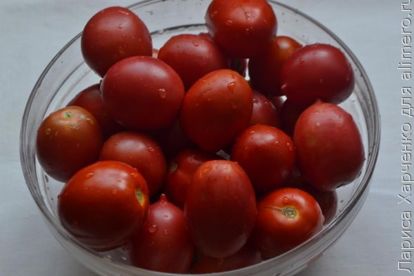 Vegetables must be washed, drained, removed the stalk and cut into 4 pieces.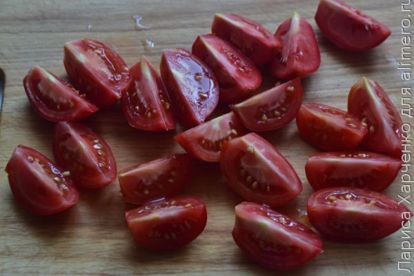 Then, just with the help of a teaspoon, we take out the pulp along with the seeds – we will not need them.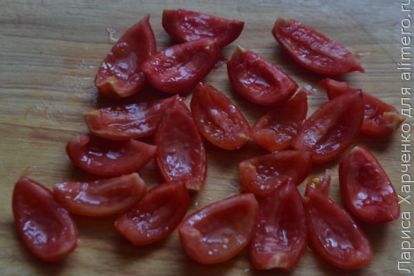 Now the peppers – they also need to be washed well and cleaned from the stem and seeds.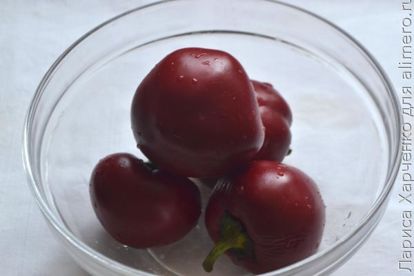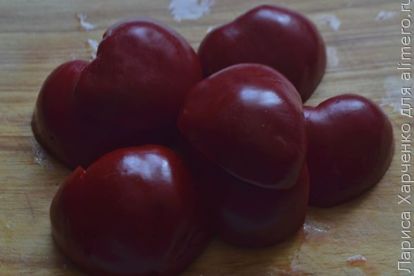 Then cut the peeled peppers into small petals or straws.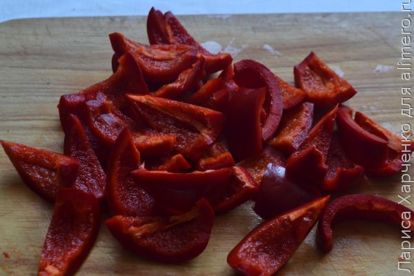 Prepared vegetables should be laid out on a wide baking sheet covered with protective paper – here it is easiest to use plain parchment.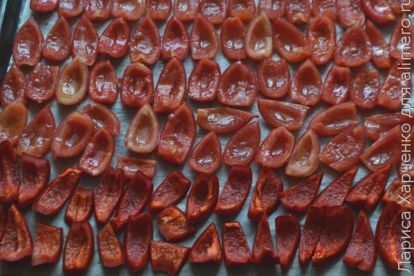 Then generously sprinkle the vegetable layer with a mixture of salt, dried basil and oregano, slightly sprinkle with olive oil.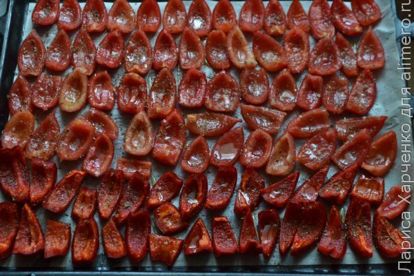 We send the baking sheet to the oven, preheated to approximately 100 degrees, and we mark somewhere 2-2.5 hours. The important point is that its door must always remain ajar.
A reference point for the readiness of vegetables in the oven can be considered the absence of vegetable juice when cut with a knife and the presence of dry surface.
These vegetables should be completely cooled.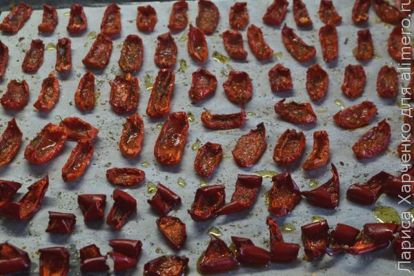 Now we will prepare a sterilized jar and clean the garlic – the more, the more aromatic the harvest will be!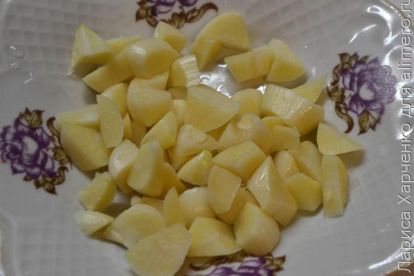 First, lay a layer of garlic on the bottom of the jar, and then cover it with a layer of dried peppers and tomatoes. So fill the jar to the top.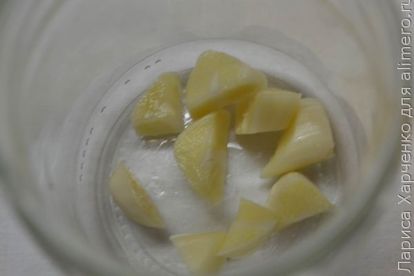 It remains only to pour this fragrant mix with olive oil, close the lid and leave for a few days.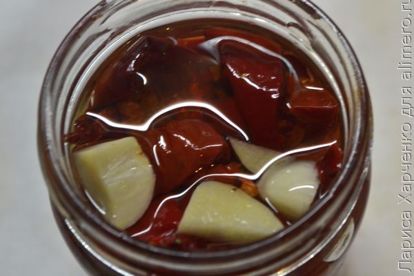 I keep such dried tomatoes with peppers in the refrigerator, and use them in salted pastries, salads or meat dishes.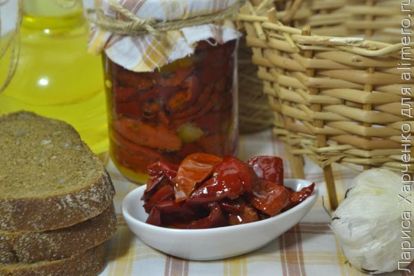 Cook with pleasure!