Want to make the taste of any dish brighter ?! Then replace the usual onions in the recipe for pickled and feel the difference.
It would seem, what can be unusual in the recipe of pickled onions? It seems to be nothing special, and with the help of this simple snack you can diversify salads, serve such onions to grilled meat, kebab or poultry.
Earlier, before putting onions in a salad, I doused it with boiling water to remove the sharpness. Now I use only pickled onions for making salads.
And during picnics pickled onions – generally indispensable snack! Always marina bow beforehand and keep in the refrigerator.
It is still too early for picnics, but during the Post the pickled onions can also be used adequately. Try to cook lenten lentil salad with his participation.
For the preparation of pickled onions I need the following products: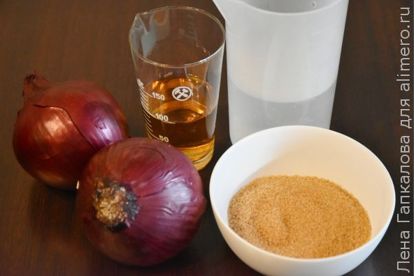 Time for preparing: 5 minutes
Degree of difficulty: easy
Cooking:

Water boiled, poured into a bowl. I added cane sugar to boiling water and stirred it until complete dissolution.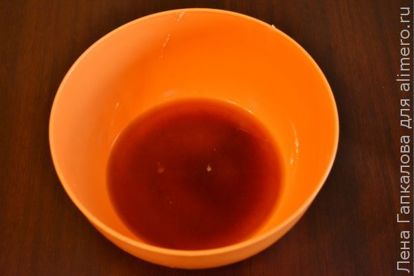 Apple vinegar is poured into the water with sugar. Apple cider vinegar and cane sugar will give the marinade a brighter taste and aroma. But in their absence, you can use regular sugar and vinegar.

She peeled a red onion, cut it in half and chopped it with a sharp knife with thin slices.
You can pickle both purple and white onions. I prefer purple onions, as it is more beautiful in color and has a sweeter and less sharp taste.
Two large onions is enough to pickle a quart jar.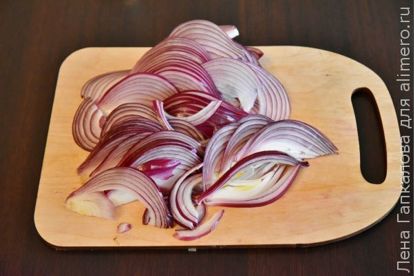 Put the onions in a bowl with marinade and mix.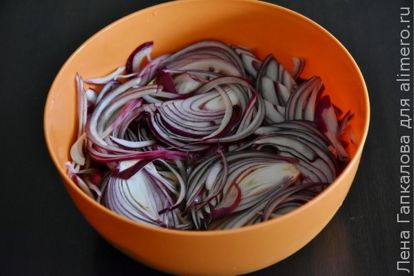 Put the onions in a clean, dry jar. Poured marinade, closed the lid and put in the refrigerator. Every time I take from the jar the amount of onions I need, and put the rest back in the refrigerator.