For some time now, mint has become a complete addition to the dishes on my table. Before, I brewed only tea with it, and today I use it as greens in dishes, especially in vegetables.
Today's recipe is a variant of a hearty snack with vegetables and bacon. All the ingredients we will bake in the oven, hence the usefulness of this dish. Bacon gives satiety, vegetables contain many vitamins and minerals, and mint gives a touch of freshness.
Cooking time This dish can be divided into preparatory and main (baking). In total is35-40 minutes. Complexity missing or reduced in recipe to a minimum.
Products need the following:
– potatoes – 2pcs.
– Eggplant – 1 pc.
– bacon – 4-5 pieces
– cheese
– mint
– olive oil and vegetables for decoration
I did not use salt in the recipe, but those who eat it can add a little salt to the vegetables.
Peel potatoes, cut into slices. We are trying to pick up potatoes and eggplants of the same diameter in order to make beautiful barrels.
Eggplant cut into circles.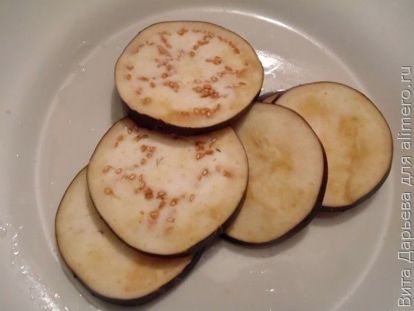 Immediately take the form in which we will bake vegetables. We read to form a snack right in shape.
At the bottom of the form lay out the potato circles.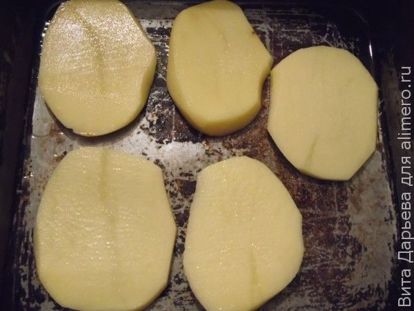 Put the eggplant on top of the potatoes.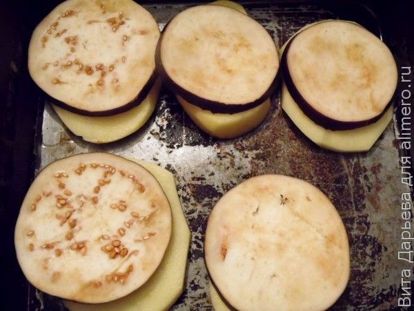 Top a little bacon. I have a little salty, so the vegetables are no longer salted. And we carry out such manipulations once again. We get 2 layers of potatoes, 2 of eggplant, and between them bacon.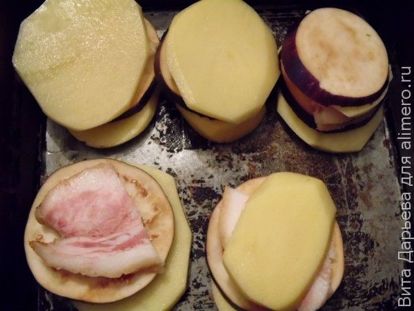 The form is sent to the oven. Bake vegetables at high temperature for a little over 20 minutes. Behind. When the vegetables are well baked, you can top them with grated cheese and turn off the oven.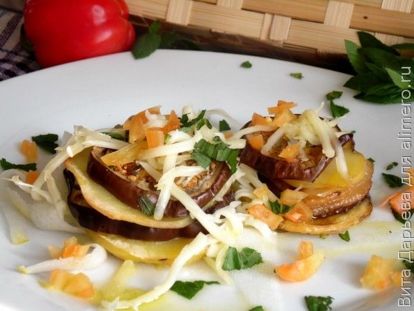 This appetizer is very good with fresh vegetables. Perfectly fit cucumbers and bell peppers. Even before serving, a snack with vegetables can be poured with drops of olive oil and, undoubtedly, mint leaves, which will give an oriental touch to the dish.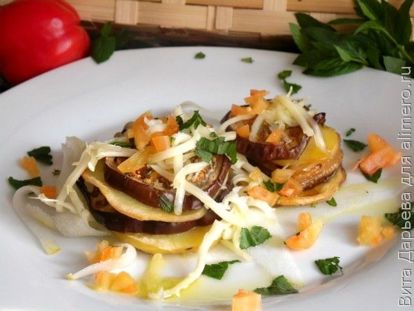 Good appetite! I would be glad if you like the snack!