Continuing the theme of romantic dishes devoted to the upcoming Valentine's Day, I want to advise a very simple, but quite effective recipe, which will be very appropriate at a festive dinner for two … This is a tasty and original snack.
The preparation of such pretty shell shells is possible using frozen ready-made dough, which, due to its layered structure, allows the product to open up nicely when baking.
But in order for everything to happen that way, you should take advantage of some simple tricks that I will announce along the way.
So, we will need:
Level of difficulty: average
Time for preparing: 30 minutes
Puff frozen dough, as a rule, we must prudently get out of the freezer.
When it is ready for work, we arm ourselves with an ordinary metal mold for baking cupcakes and cut out shaped dough pieces from it. On one product will need 2 blanks.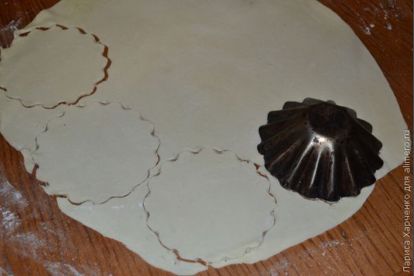 Each billet we heavily flour with flour on both sides.
After that, we connect 2 blanks together and squeeze them tightly on one side so that they join together.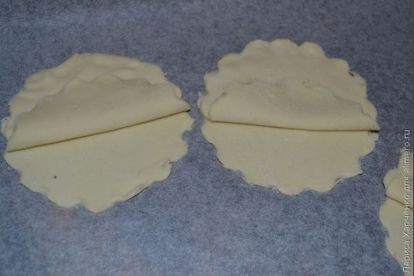 Now on the upper blank you can make thin stripes with a knife to create some resemblance to a shell. Only you need to do this very carefully, so as not to cut the dough completely. These stripes, we also priprashivayu flour.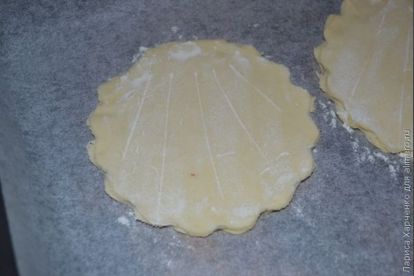 We spread our future shells on a baking sheet with paper and grease with a beaten egg.
They will be baked for a very short time – 10-15 minutes in a hot oven. In any case, you need to navigate the golden top and open design.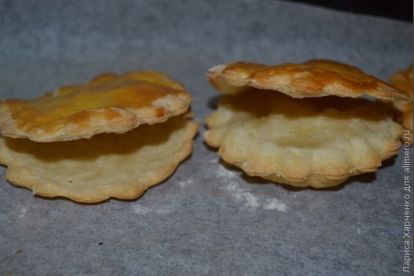 If this does not happen, then you should immediately, while the product is hot, carefully open the shell with the help of a knife – I am sure that everything will work out for you, so be bolder.
While the blanks are cooling, we will quickly prepare the stuffing.
Melted syrochek and boiled egg rub on a small terochka. Add chopped fragrant dill.

Mayonnaise can not be used – add the favorite French mustard to add spice and pleasant texture. If you do not have enough salt, please add a pinch.
We mix our filling and we fill the shells with it.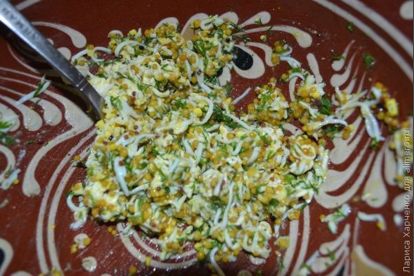 Well, and not to forget about the pearl – a black olive tree or green olive will certainly decorate your culinary masterpiece!