For many, sandwiches are not always associated with tasty and healthy food – rather with some quick snack, which sometimes interferes with good nutrition, because it only interrupts appetite … Especially if it is a sandwich prepared with some sausages stuffed with all sorts …
In principle, my attitude to sandwiches has always been almost the same … Exactly until I, in search of light and tasty snacks, discovered a lot of different, very interesting, incredibly delicious and most importantly – useful sandwich ideas for the whole family!
And today I want to prove it to you by sharing the recipe of hot sandwiches with young vegetables and melted cheese …
To make such hot sandwiches we need:
The complexity of this original recipe: minimal
The time required for their preparation: about half an hour
Servings: 2-3
The course of the proposed actions:
A small zucchini need to be grated on a large grater. There is no need to remove the peel from a young vegetable.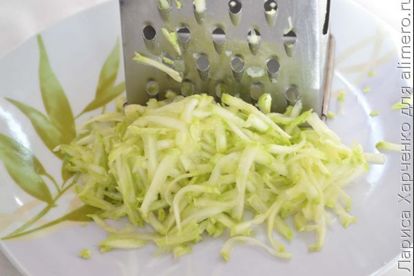 We put a small carrot on a fine grater – it is still worth pre-cleaning.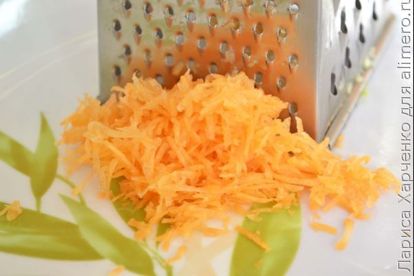 Melted cheese with creamy taste (I used half a pack) is also rubbed on a grater.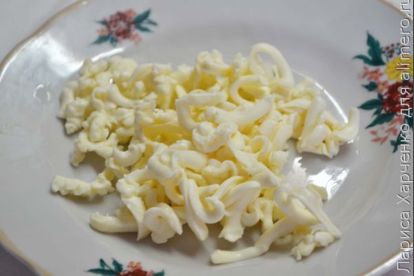 In a small bowl we shift the grated vegetables.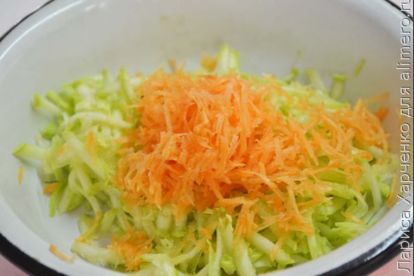 Then add melted cheese.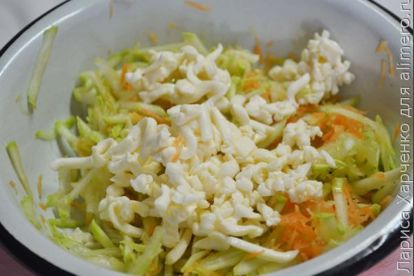 We prepare a delicious and savory dressing – we combine garlic, French mustard, sour cream, passed through a press, and let a pinch of salt go. All mix well.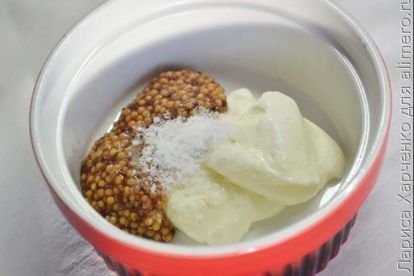 We spread the cooked dressing to a mixture of vegetables and cheese.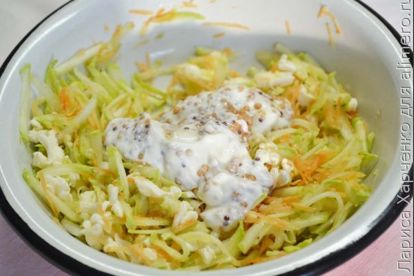 Mix everything carefully. By and large, we have already turned out an incredibly light and tasty salad – the main thing is not to eat it at this stage. After all, we are preparing sandwiches …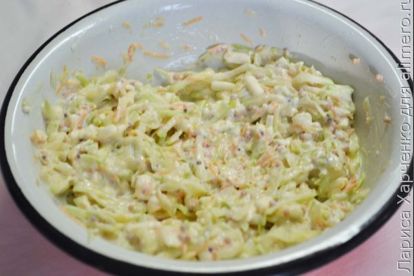 White bread now needs to be cut into pieces or use sliced ​​bread.
On each piece of bread we evenly distribute the fragrant vegetable and cheese mass.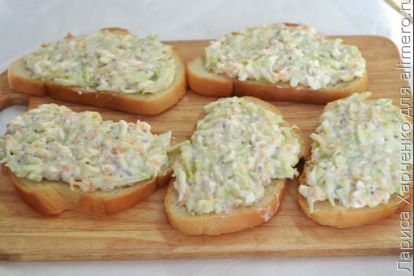 The resulting blanks lay out on a baking sheet, greased or covered with parchment.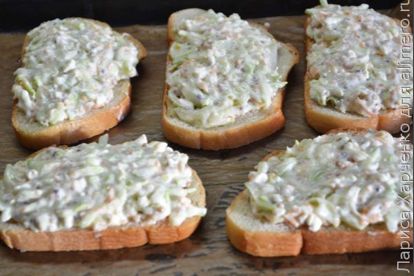 A baking sheet with blanks for hot sandwiches is now placed in a preheated oven (up to 190 degrees) and cooked for about 20 minutes – they should become rosy and beautiful.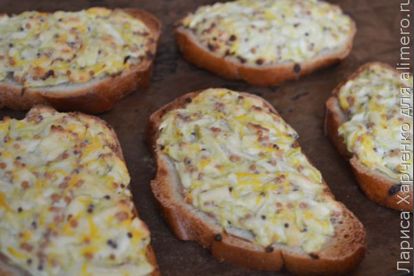 Serve sandwiches should be hot – I am sure that you will be pleasantly surprised by crispy bread combined with a delicious and juicy cheese and vegetable filling!
Cook with pleasure!