Today began very nicely. For breakfast, I decided to make myself coffee and hot sandwiches with peaches and Camembert cheese. I tell you honestly, girls, if every day began so tasty, then my life would be much happier. Now I go all day with a good mood and a smile on my face.
Perhaps an additional bonus to my good mood was the fact that in the past six months I slept normally for the first time. I did not think that I do not have enough sleep. She lived in the rhythm of work – the lessons of her son – household duties. It would seem that the point of performing lessons with a child should fly out from this point on June 1, when the summer holidays began in schools.
In fact, everything turned out differently, because every day I need to prepare for the child another lesson in English, mathematics and Russian. A day later we are engaged in programming and check the reading technique. In general, there is enough work both for me and my son.
But today I pushed everything into the background to pamper myself, because life is only one, and you need to appreciate not only the salary at the end of the month or a good estimate of your son at the end of the year, but today, and every minute. Treat yourself and you a delicious breakfast, the recipe of which I will share with you now.
For the preparation of 3 hot sandwiches with peaches and Camembert cheese, the following products are needed:
Time for preparing: 20 minutes
The difficulty of cooking: easy
First, take three slices of white bread and cut out three blanks in a round shape.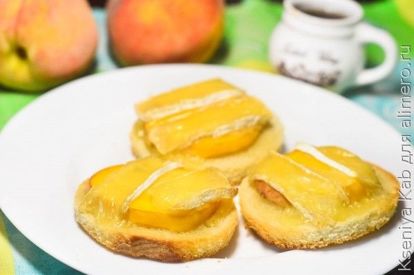 Serve hot sandwiches immediately after cooking. A great addition to this breakfast would be a cup of coffee.