Do you know what one of the most vivid childhood impressions I have?
Not even an impression, but a whole cycle: my mother's friend Aunt Nelly came to visit and we sit on the loggias, eat hot sandwiches. Mom and Aunt Nelly drink coffee, and I happily eat, and then I sit and read a book. Women chat, and I eat and read.
We had a very cool loggia – big, bright and empty, we did not store there either skis or sleds.
Since then I have been dreaming that in my apartment at the loggia they will drink coffee. And there I want to put a chair there, hanging, rocker.
For the time being we do not store anything there, but even to drink anything far away. No, of course, you can come in and sip something from a cup, but you can't rest comfortably.
But since I started, today I will tell you about those hot sandwiches.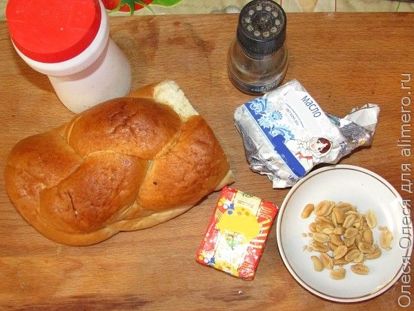 There are no random ingredients. You can replace everything: if you watch the waist tightly – refuse butter; use ordinary cheese instead of melted cheese; Do not take nuts and, instead of a sweet loaf, take a loaf – and all this will be very tasty sandwiches. But not those. Not from childhood.
The only moment in which I allowed myself to deviate from the original recipe – I do not use cumin. I never use it. I do not like. I do not eat. If you like, then go ahead, the cumin here is very good. But I pass!
Actually the bun, the bun should be sweet, but moderately sweet, as for me, so perfect challah. I'm cutting it.

I grease each piece with butter.

I sprinkle on top.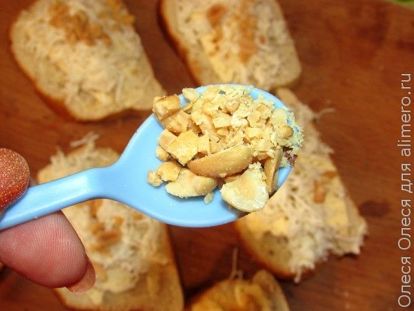 There was a setup here – baking paper was over, I had to use leftovers, on a baking sheet, on baking paper, laid out sandwiches
and put in a preheated oven for 15 minutes.
You can eat. I do this for my girls and even though they are all on diets, no one has ever refused these sandwiches.
Enjoy your meal!