I really like hot sandwiches with hard cheese. Standard sausage with cheese on bread turns into a hot oven into an unsurpassed delicacy for all cheese lovers. But over time, these sandwiches began to pall with the standard taste and appearance – I had to find several options to make the dish new.
Today I was cooking hot cheese sandwiches again. This time they are also with canned cherries. It turned out very tasty dessert. But now I offer you 5 options for hot cheese sandwiches:
1. Cheese and Cherry (I'll start with the option I'll talk about in detail today).
2. Cheese, Tomatoes and Basil Leaves (Italian version).
3. Cheese, garlic, fresh greens (soup and soup will be a great addition).
4. Cheese and cranberries / strawberries (another version of sweet sandwiches).
5. Cheese and sausage slices (standard taste, but crisp breadcrumbs make sandwiches even more delicious).
To talk more about making hot cheese sandwiches, write down necessary products (a variant with a cherry, but it is worth replacing this product with another ingredient from the list above, and get a completely different sandwich):

Now we dip the resulting sandwich in the egg on both sides, after which we dip it in breadcrumbs.
Fry until golden brown (on each side for 2-3 minutes) in a pan under a lid in a small amount of butter.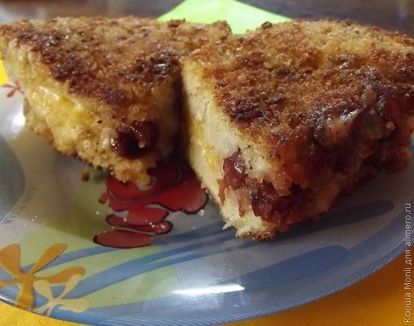 Council It is better to use a non-stick frying pan, if available.
Hot sandwiches served to the table warm until the crust crunches, and the cheese stretches the strings.