Snacks and sandwiches are an ideal way to serve a dish, when using ordinary products you can figure out the beauty that will undoubtedly cause appetite and praise to the hostess.
This dish will help when you are warned about the visit 10 minutes before arrival. In my case, my husband came home from work with a colleague for lunch.
Honestly, I did not expect them. There was nothing to feed, then I collected all the main products from the refrigerator, looked at them and decided to make them hot sandwiches on black toast with bacon, cheese and tomatoes.
Cooking time This snack took a little, just some 10 minutes, but difficulties, as you can see, there is no recipe.
I take these products for 2 sandwiches (but you can do more, at your discretion and by the number of consumers):
Here is the set of products with which I was preparing sandwiches. As you can see, you have all this, I am sure.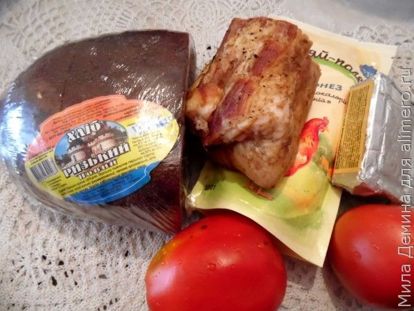 I bought bread in the cut, I do not like messing around with a knife. I can't cut it beautifully, it's a sinner.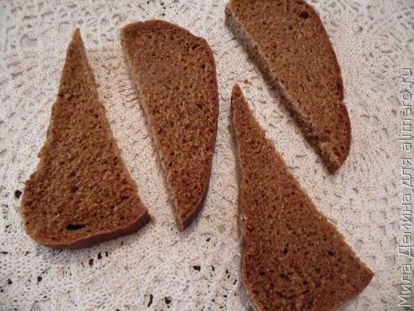 Then cut bacon. In this recipe I have a sharp Hungarian bacon, which is ideally combined with black bread.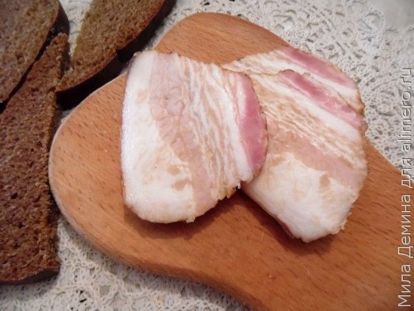 I heat up a frying pan and spread bread on hot oil. I warm it with bacon.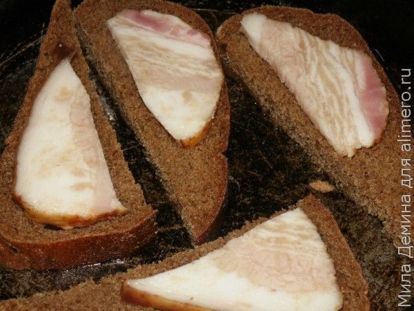 Tomatoes cut into thin strips so that they cover the fat. As you already understood, I fry the croutons on one side only.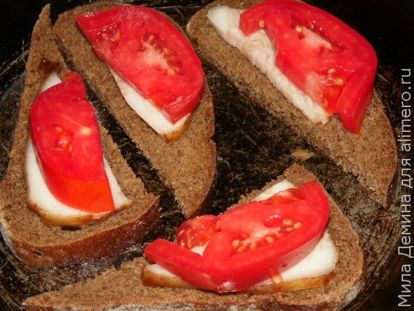 On the cheese I rub cheese straight into the pan. I do everything quickly, because I do not forget that the toast is roasted at this moment. Bread in total in the pan spends a little more than a minute, otherwise it will burn. So expect to do everything quickly.
I turned off the fire as soon as I rubbed the cheese. She covered the pan with a lid so that the toast was already soaked with aromas.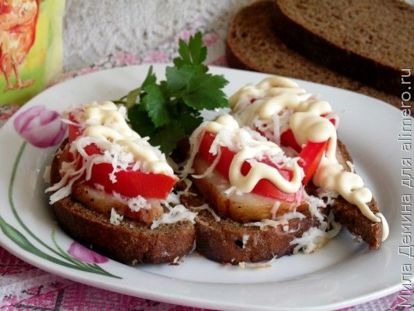 The husband came just at the moment when the toasts were already cold. We quickly put the tea and the men had a snack. They promised now to drop in more often for lunch!
Enjoy your meal and appetite!