On the market and in stores, in advertising and in recipes – everywhere they show the queen of berries – strawberries. And this is not surprising, because the strawberry season has begun. They say that in order to be healthy for a whole year, you need to eat each berry per kilogram in season. To believe in such a statement or not is everyone's business, but I would eat strawberries not only one kilogram.
I start the strawberry season with a vitamin salad, and for dessert I made a strawberry cocktail today, but I'll write about this recipe in the next topic.
To prepare a salad with strawberries and spinach, you need the following products:
Time for preparing: 10 minutes
The difficulty of cooking: very easy
To prepare the salad, we take fresh spinach and thoroughly wash it under running water.

Making salad dressing. To do this, mix the salt, sugar, black pepper and balsamic vinegar.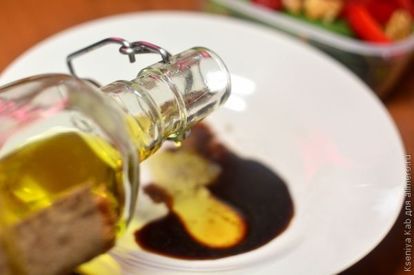 Add olive oil. Mix the dressing and fill the salad.
Sprinkle the salad with sesame and serve immediately after cooking.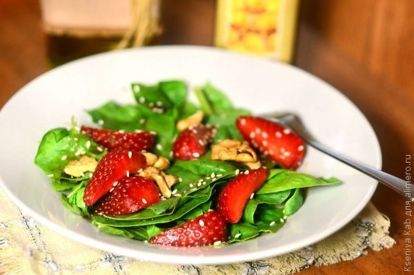 The taste of the salad is refreshing sweet-sour. It is perfect for meat dishes. Especially tasty salad will be combined with cooked chicken breast.