Yesterday my husband's father returned from a regatta. He brought fresh crayfish from his sea voyage. We boiled them with salt and dill. But there was just a boiled whole bucket of crayfish turned out to be not interesting.
I decided to cook with this meat some kind of snack or salad. In combination with sweet and sour fruit, it turned out very tasty and, one might say, dietary!
Most of the time it takes to separate the crayfish meat from the shells. And then everything is done very quickly!
Time for preparing: 25 minutes.
To prepare a salad with oranges and crayfish, we need:
1) lettuce leaves
2) 1 juicy orange
3) boiled crayfish
4) 1 small apple
5) 1 teaspoon olive oil
6) salt and spices to taste
Our crayfish are pre-boiled in salt water with dill.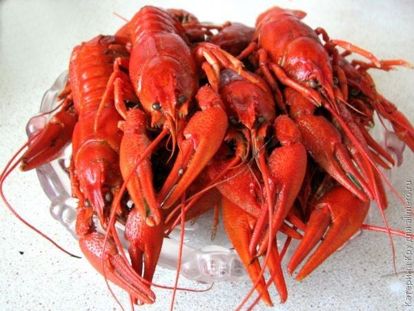 Having spent a little time, we separated the meat from the shell and head.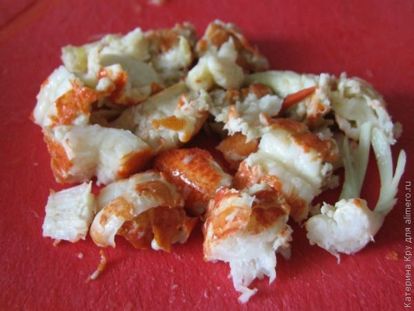 Peel one big juicy orange peel.
Cut out the orange pulp with a sharp knife (preferably ceramic) and place it in a salad bowl. Juice will not be superfluous. He will play the role of refueling.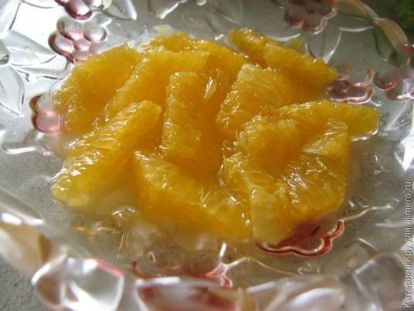 We spread cancer necks on the fruit pulp.
My apple, cut into two halves and remove the core. You can cut the peel, if necessary. We cut them on thin plates of small size and lay them on the crayfish meat.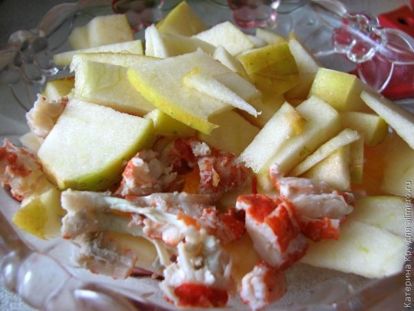 Lettuce leaves are carefully washed from the sand and get rid of excess water.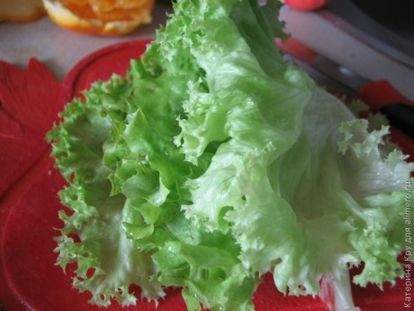 Cut them into thin strips or rip your fingers into small pieces.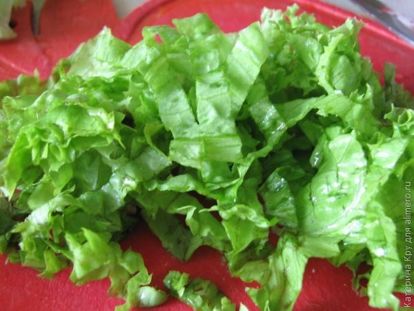 Shredded salad lay out on top of the other ingredients.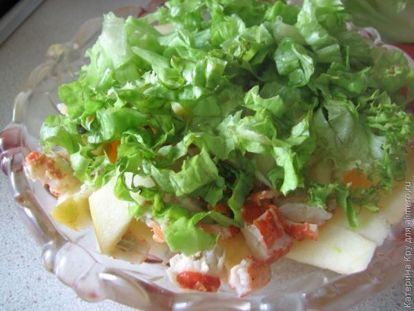 Salad I did not salt, because the crayfish flesh was quite salty.
Sprinkle with a small pinch of white pepper and pour over olive oil. It will be enough one spoon, as the main part of the sauce will be orange juice.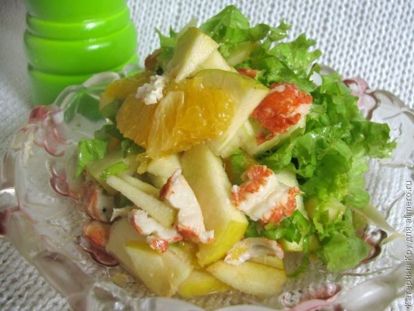 We spread in small bowls or salad bowls and serve everyone!