How I love the new and unusual combinations in salads! And although I have very little time for such experiments (about an hour in the early morning and a couple of hours after work or for rebound), I still experiment and try new recipes regularly …
Thanks to Tatyana, almost daily new and interesting mixes now appear in our menu, which are created in just a few minutes from improvised but always favorite products. This, as I have repeatedly seen, is the key to success of light salads and appetizers.
So, having fruit, fish and cheese on hand, I managed to prepare an absolutely unusual salad in an absolutely ordinary way.
What am I talking about? Now I will tell you about everything.
To prepare this original salad you need to prepare:
The complexity of this recipe: very simple
Required cooking time: literally 10 minutes
Algorithm of proposed actions:
In principle, the preparation of almost any salad begins with the preparation of the ingredients used in the snack. This dish is no exception.
Based on the above list of products, we need to first clean and cut the kiwi into small cubes, and then put it in a bowl and sprinkle with lemon juice.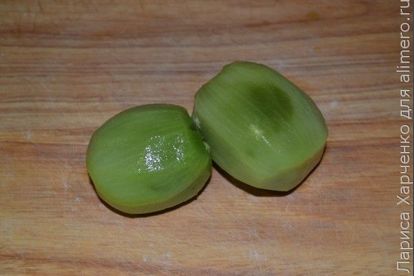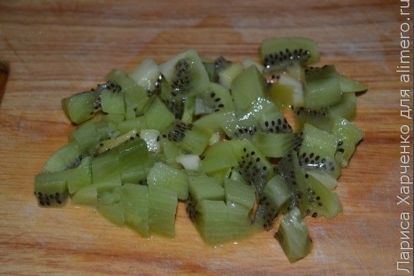 Similarly, we must do with fish. By the way, it's not fundamentally your choice to stop exclusively on salmon – in this case any red fish will do. The only time I would like to draw the attention of those interested in the recipe is that it is advisable to take the fish not very salty, given the presence of cheese in the salad.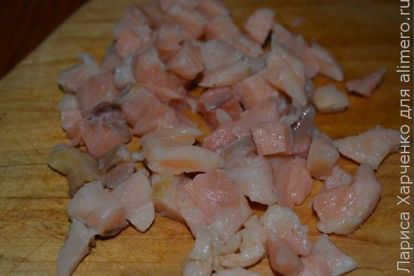 Immediately chop cheese.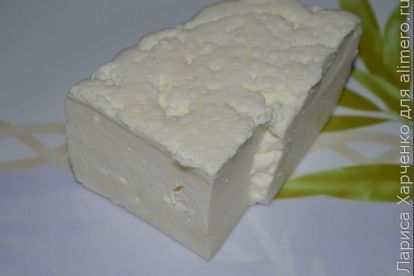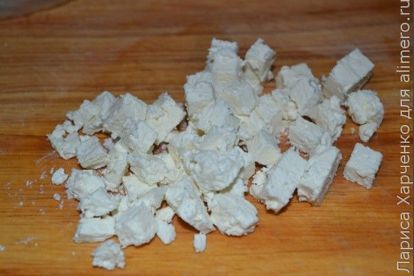 Send fish cubes to kiwi, season with olive oil and mix everything.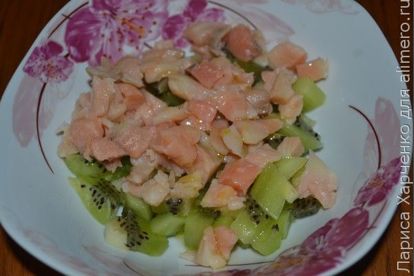 On the dish, first lay out a mix of fruit and fish, and on top lay out the cubes of cheese and once again sprinkle with olive oil. Decorate the snack with fresh herbs.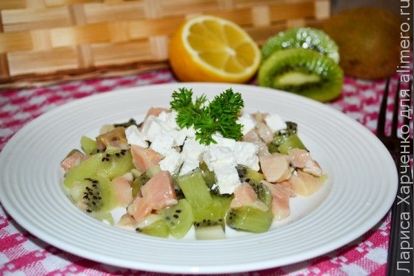 This salad turns out incredibly light, delicate and very, very tasty …