And again, I come to you with a salad 🙂 Today, this salad from the discharge is easier than ever.
And it concerns not only the cooking process, but also those ingredients that are part of today's dish. But, despite the simplicity, it turns out this salad is very tasty, and eaten instantly.
In general, despite the fact that January is almost entirely a festive month, simple salads in our family are also in trend.
So, in order to prepare a salad with green onions, we need the following products:

Difficulty – very, very simple

The total cooking time (including cooking) – 1 hour, of which active actions – no more than 10 minutes

Calorie content – 79 kcal per 100 g (as always, excluding refueling, as each man fills a salad to his own taste – this also applies to the type of refueling and its quantity)
Cooking process

I put carrots and eggs on a stew. By the way, for this salad it is important that the carrots are tasty and sweet. Therefore, if you are not sure about it, then you can add a pinch of sugar into the water during cooking.
Green onions washed, dabbed with a paper towel. Sliced.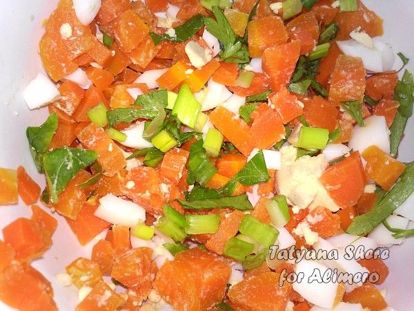 Laid out in a salad bowl, sprinkled with flax seeds and decorated with a leaf of parsley.
That's all, salad with green onions and carrots is ready! I ran it with mayonnaise.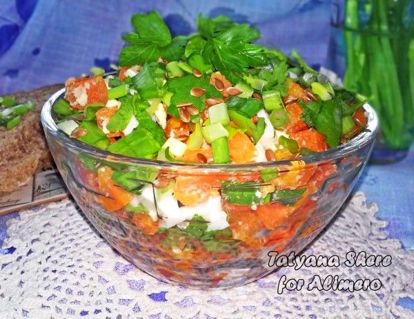 By the way, the green gives a special flavor to the salad – it makes it fresh, so I would call it the Breath of Spring, even though the frosty January is outside the window 🙂