Greetings to all Alimero participants!
Being a big lover of Olivier, herring under a fur coat and other salads with mayonnaise, from time to time I cook something unconventional and unusual in the taste of our person). Such is the original salad.
Today I want to share a recipe for salad, which has recently become more and more popular in metropolitan cafes and restaurants.
So, we need the following products:

2 medium beets
bundle of arugula or corn
a small jar of goat cheese (I have 125 gr.)
nuts for your taste (I used a mixture of walnuts and cedar) -100 gr.
For refueling:
6 tbsp. spoons of olive oil
1 tbsp. balsamic vinegar spoon
1 teaspoon brown sugar
garlic clove
some pepper
dried basil
lemon juice (to taste)
1. Prepare the beets. You can boil it, and you can bake it. I bake beets in foil at 180 grams for an hour or a little longer.
2. Wash the salad, dry, put in a salad bowl.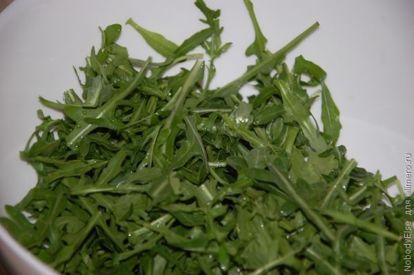 3. Chop nuts, chop, chop in any way you want.
4. Beetroot cut into cubes, put on arugula.

5. Chop the cheese into small pieces and place on the beets.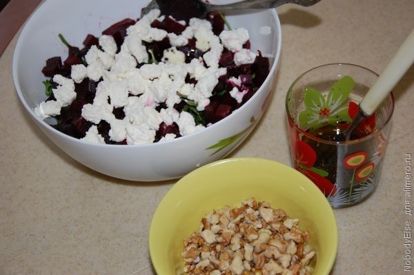 6. Sprinkle all the nuts.
7. Prepare refueling. Mix the oil and vinegar, squeeze a clove of garlic through the garlic press, add brown sugar, basil and pepper. Mix well, you can even beat.


8. Water the salad and mix.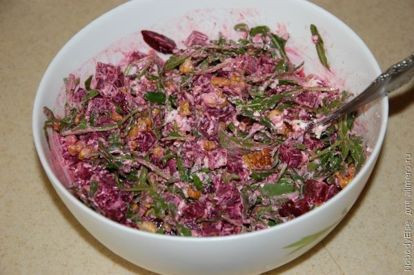 You can help yourself.
Taste is unusual, girls.