The products that are part of my today's salad, fully demonstrate my current diet. This is what, if necessary, I replenish the store of strength and energy, getting real pleasure from food, and from each component both together and separately … But no – here, perhaps, not all … There are not enough branches of basil, a cup of coffee and sweetie …
And what can I do if it was during this August-September period, looking at the abundance of blue (or in my case and white), onions and tomatoes, I can not refuse myself a portion of gastronomic pleasure at least once a day, diluting it wonderful trio of cheese and herbs …
As I already didn't connect them, I didn't cook them, but the easiest and quickest option is, of course, to make a salad. Today I will tell you about him …
The complexity of the recipe: simple as never before
Required time for cooking salad: literally 10 minutes if the eggplants are already browned
Algorithm of proposed actions:
Since I deal with eggplants on a daily basis, I almost always have their stock in finished form (be it ringlets or small pieces). So this time part of the ready-made fried eggplants (previously diced) with onions, seasoned with salt and pepper, I decided to use to prepare my salad.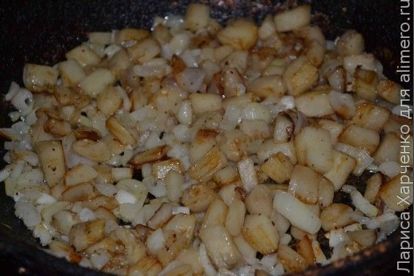 In addition, I cut colorful tomatoes into a large glass salad bowl. Pretty big cut so.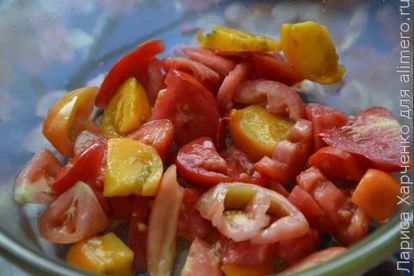 Further added onion feathers.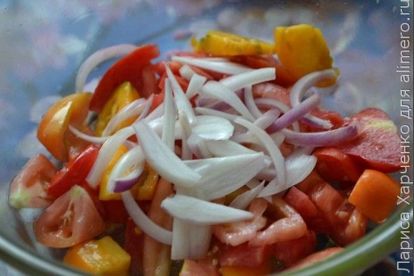 Then I sent some fried eggplants to the salad bowl.

Suluguni grated and added to the salad.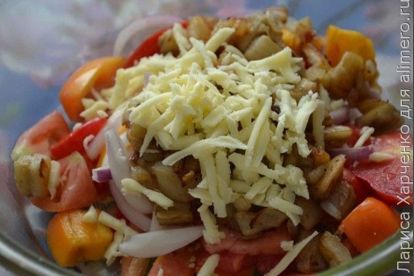 At the very final stage, she prepared chopped parsley, and then just mixed everything together.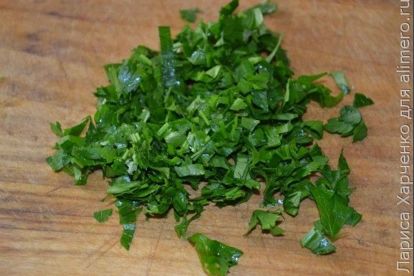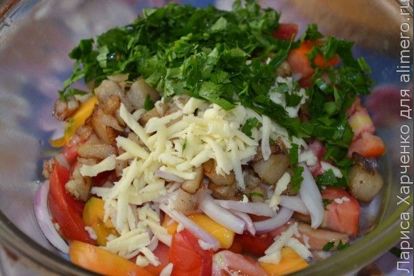 I didn't add any oil or salt – this was more than enough in eggplants.