This salad is my invention. Once tried, I do it for the fifth time. Nobody complained, everyone likes.
The main feature of this salad are croutons. And this is not just fried bread, but fried bread with egg.
There is another fried ingredient in the salad – this is the Kranshtad ham. When frying, it acquires a more pronounced, unobtrusive, smoked taste, which, in my opinion, improves the taste of the dish as a whole.
In the end, I wrapped the lettuce in a piece of Chinese cabbage, which gives it an interesting and unusual look.
So, here is my recipe.
You will need:
Chinese cabbage
Grub Kranshtadsky
Tomatoes
Egg
Baton
Mayonnaise
Toothpicks
The difficulty of cooking: minimal.
Cooking timeme: 15-20 minutes
We start with the toast. Cut the loaf into small cubes.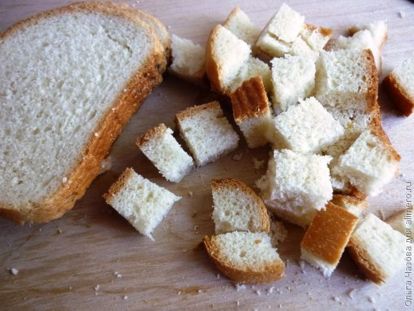 Then take one raw chicken egg. Break it and mix the protein with the yolk with the help of a fork.
Omit sliced ​​loaf in the egg. We give the loaf to get wet very well from all sides.
Fry the bread cubes in a hot pan from all 4 sides.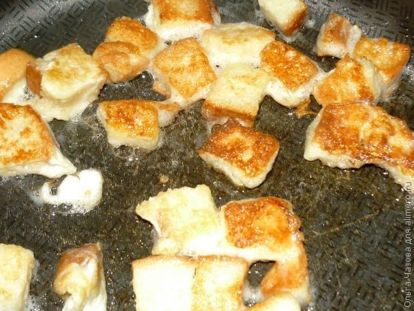 Now take the ham. We cut it into straws or dice, as you like.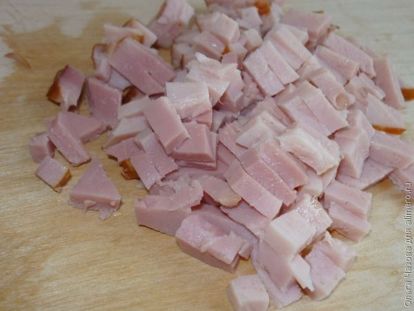 Fry a little ham on a skillet with minimal oil.
We take Peking cabbage. Split a few leaves. The largest and most beautiful sheets leave. We will use them instead of envelopes for salad. The rest of the cabbage shred.
Then wash the tomatoes and cut them into slices.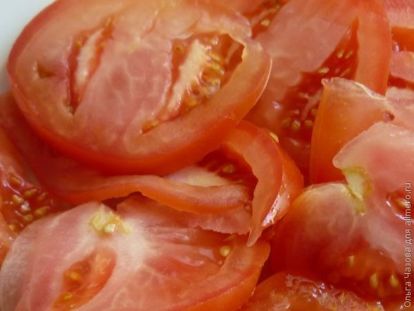 Ingredients put in a salad bowl and mix thoroughly.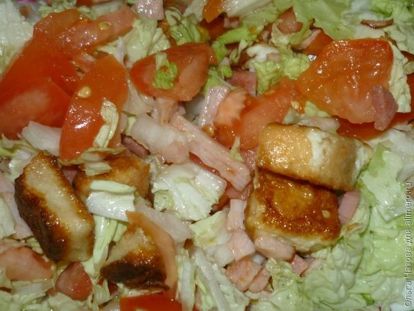 We take a large sheet of Peking cabbage, put it on a plate.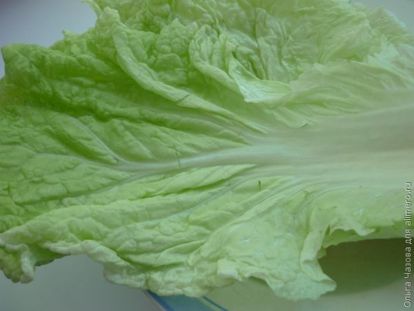 Put on the sheet the resulting salad, twirl it and fix with a toothpick. We make as many bundles as you have servings of salad.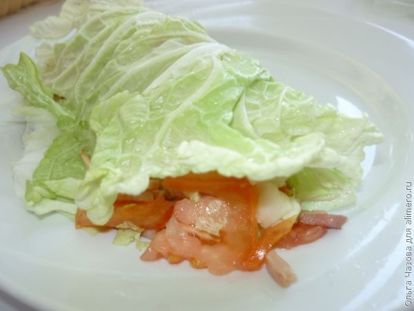 For decoration, make a rose from a tomato. To do this, finely chop hard tomato and turn it into a flower. If necessary, pinch the bottom of the rose with a toothpick.
Top salad decorated with snake from mayonnaise. Salad is ready! Enjoy your meal!