Something quite a while I did not cook salads. It is necessary to be corrected;)
Today I cooked a salad with crab sticks. Simple, juicy, tasty, fast, satisfying. That is necessary. I'll take him to work tomorrow as lunch.
So, in order to prepare a salad with crab sticks, we need the following products:

Difficulty – salad is very easy to make

Cooking time – 15 minutes maximum

Calorie content (we are still losing weight, so you need to know the calorie content;)) – 120 kcal per 100 g of lettuce without refilling
Cooking process

I boiled eggs hard boiled.
Cheese put on a grater.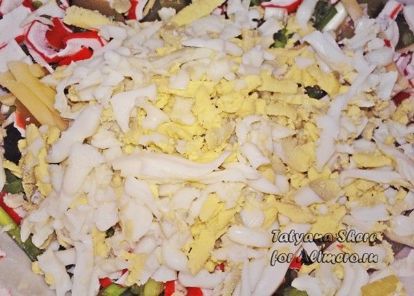 Mixed all the ingredients, added a mixture of peppers. I tried it and did not salt it, because I had enough salt from cucumber and crab sticks.
And as always, looking at a full salad bowl, I wondered: what is to fill up today's salad? For me, this is a dilemma every time, because I do homemade mayonnaise (both real and sour cream) less often, and I don't keep it for a long time, and I've got the store every six months, and then, especially for some dish. . And now, late in the evening, I had no strength to cook mayonnaise, to be honest. I wanted to quickly gobble up a plate of salad and relax after a crazy day.
In general, I decided for a long time not to puzzle over this issue. And bore it with a low-fat kefir – I'm losing weight after all! 🙂 It turned out pretty bad! True, I added another drop of French mustard. By the way, my non-dieter husband also expressed a desire to fill kefir with a salad 🙂
That's all – the salad is ready!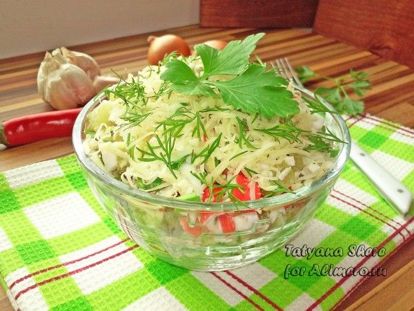 Wish you enjoy your meal!