The pursuit of freshness is the hallmark of French salads. For this reason, the presence in them of fresh lettuce of various kinds is one of the indispensable conditions. In combination with greens can be used any products that do not contradict each other.
Light salads are predominantly filled with a vinaigrette dressing made from a mixture of olive oil, balsamic or wine vinegar and pepper, and more varied options are refilled with all known mayonnaise. Poached eggs are also one of the interesting differences in French salads.
For this salad, I used a mixture of green salads: corn and chard (beet), ham and poached egg. Homemade mayonnaise dressing. This salad is suitable for a leisurely breakfast on the afternoon of the day or a friendly dinner with a glass of wine.
Ingredients for 2 servings: 75 g of green salad corn and chard, 200 g of ham, 70 g of cheese, 2 eggs, mayonnaise.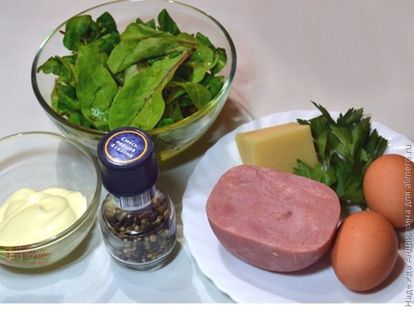 Remove the roots from the rosettes of the lettuce root and, if necessary, lower leaves, soak it with cold leaves and vinegar for 10 minutes, together with the leaves of chard. After this procedure, the greenery becomes fresh, as if fresh from the garden.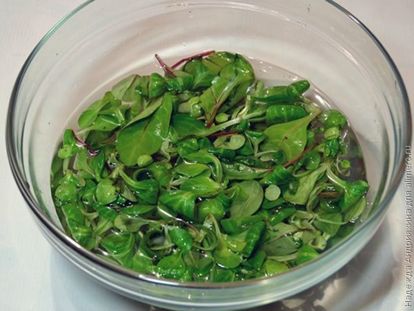 Ham cut into thin sticks.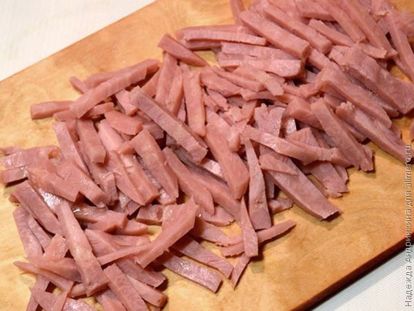 Hard cheese cut into small plates and slightly melt in the microwave.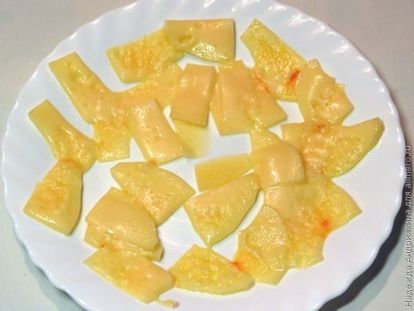 Combine lettuce leaves, folded on a sieve and then dried with a paper towel, ham and cheese in a common dish, put mayonnaise and mix very carefully.
Cook poached egg. To do this, pour water into the pan, add salt, bring to a boil and reduce the heat so that bubbles rise from the bottom, but the water does not boil.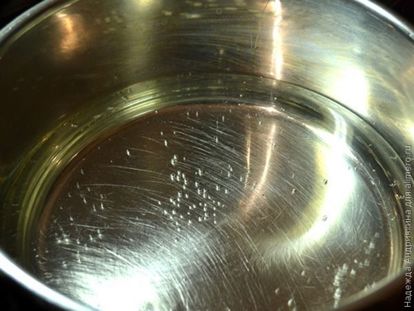 Eggs must be very fresh, if in doubt, add a tablespoon of vinegar to 1 liter of water.
Break the egg into a cup and gently at the surface of the water to allow it to slip into the water, with a skimmer check that the egg does not stick to the bottom. Fresh egg protein is enveloped around the yolk, in other cases, shapeless flakes appear on the edge, which then will need to be cut.
Boil the egg for exactly 4 minutes, then remove it with a slotted spoon and place in cold water for a couple of minutes.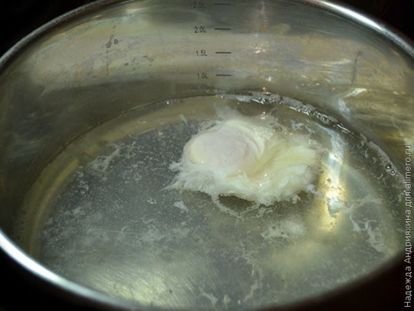 Put the salad on a plate, put the egg on top and cut the white, so that the yolk is slightly drained.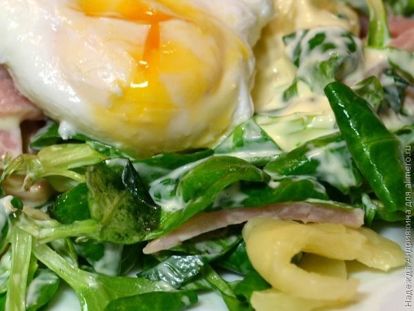 Eh, it's not for nothing that the French have long been the trendsetters of the salad fashion 🙂