I bring to the attention of our hostesses one of the recipes for quick salads, products for which can be found in almost any home. This salad is prepared quite quickly and simply, but it turns out always tasty and, as a rule, on the festive table disappears one of the first.
I invented the salad once, when friends suddenly came to me without warning. It was necessary to urgently figure out how to feed a mob of five hungry people! I remembered the tinned fish. And I thought that it would be perfect in a salad for potatoes. The remaining ingredients are added by the presence, knowing the compatibility of the products.
In general, it turned out well and the guests really enjoyed it! Then such a salad became one of the permanent ones on my holiday tables.
And today I was cooking salad for half a serving.
So, for the preparation of salad I needed:
potatoes – 2 pcs.
eggs – 3 pcs.
onions – 1 pc. (I took red, it has a less pungent taste and is more suitable for salads)
canned saury – 1 can
mayonnaise
greenery for decoration
Canned fish can be taken any – in oil or in its own juice, as long as it was not in tomato sauce.
Cooking time – 30 minutes
The difficulty is minimal
Boiled potatoes and eggs, peeled and left to cool.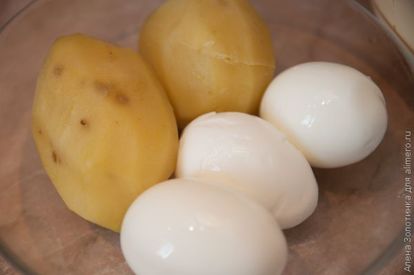 At this time, cleaned the onions and cut it as small as possible.

I opened the canned fish and mashed it with a fork right in the jar (without pouring out butter or own juice – so the fish in the salad will be juicier).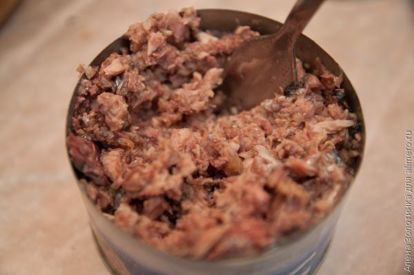 When the potatoes and eggs were cold, she began putting the salad in a salad bowl.
The salad is laid in layers, each layer is coated with mayonnaise.
At the bottom of a deep salad bowl, grated potatoes on a coarse grater. Smeared a layer of mayonnaise.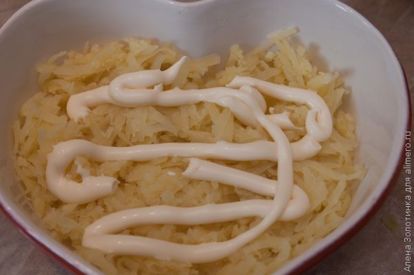 The next layer is canned fish. Since it is rather juicy, I did not grease it with mayonnaise, but immediately put on a chopped onion. But on top of the onion smeared with mayonnaise.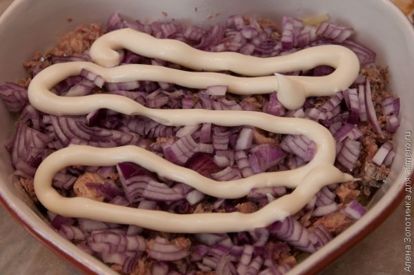 Then, on a fine grater, egg whites are rubbed right into the salad bowl and smeared this layer with mayonnaise.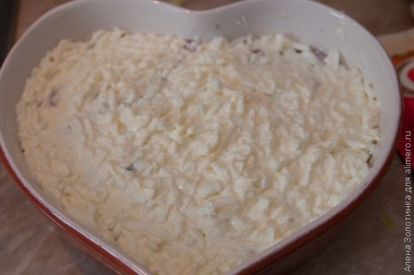 The very last layer rubbed on a fine grater yolks.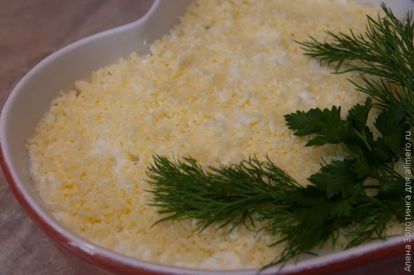 The salad was decorated with greenery, but for the holiday table, you can use for decorating those ideas that have been suggested many times by our wonderful hostesses here on Alimero!