Today again, I propose to crunch.
Yes, Tatiana all of us quietly, but rather firmly planted on salads. And, apparently, not only us, but also our families. My husband, for example, does not even sit down at the table in the evening, until I put a salad bowl with a fragrant and vitamin snack. Fortunately, the green is now a lot and it grows in the mother-in-law in the beds in the range, so there is something to crunch.
Today's cabbage salad. But besides traditional onions, cucumbers and dill, I decided to add some boiled eggs to it for satiety, and a bit dried tomatoes for piquancy. By the way, this time I exhausted my last reserves of this yummy.
But nevertheless I will tell more in detail about salad.
Products we need:
We will need time no more than 10 minutes
Level of difficulty: everything is very simple
The sequence of actions in the preparation of this salad:
I suggest to start with pickling onions. Put his feathers in a bowl and add salt, sugar, water and balsamic vinegar. Mix and set aside.
Chop cabbage finely. By the way, for me it is a pleasure. Her sonorous crunch somehow even energizes and energizes. That is why I always take a great interest and cut cabbages more than necessary. But she already got that superfluous, just put it in the little bags and in the fridge. As they say, until the next salad.
And the fact that not too much, just lay out in a salad bowl.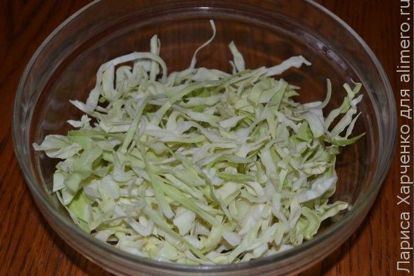 Now chop the cucumber.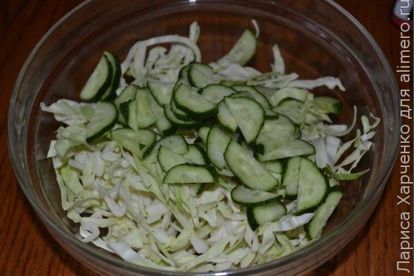 Finely chop the dill.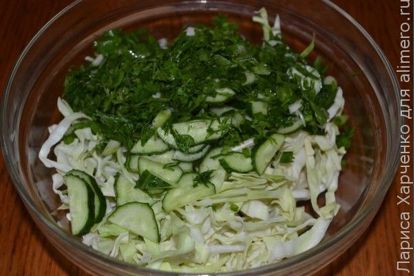 Grind eggs.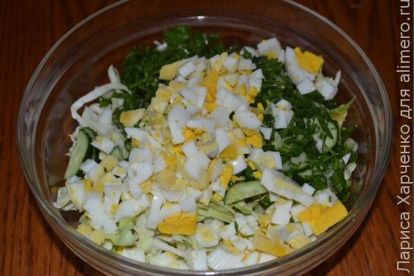 Add slices of dried tomatoes.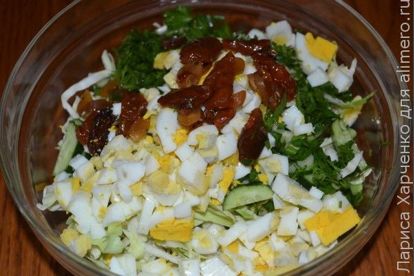 We spread the pickled onions together with the liquid, season with oil, mix and serve to the table.