Today's salad from my collection is quite hearty and tasty appetizers, which are often prepared if you have to feed a big and cheerful company …
In addition, in this recipe, I want to introduce you to a very interesting and tasty dressing-sauce, which each housewife can use at their discretion – whether for dressing in a salad, or as a sauce for meat, or just for crunching with rye crackers …
So, for the preparation of salad, we need:
– 1 cup sour cream (21-25% fat)
– on a pinch of salt, black and red pepper, cumin
Cooking time: 15-20 minutes
Level of difficulty: easy enough
At the preparatory stage of cooking, we should boil and cool the eggs first, and then all that remains is to peel and chop them.
And everything is so simple – already during the preparation of the salad, we should chop the cabbage and put it in a salad bowl.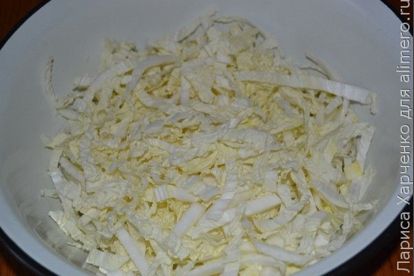 To it add sweet canned corn, and then – sliced ​​ham.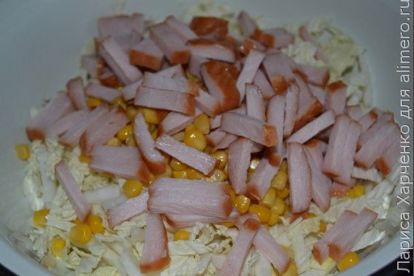 Next, I cut olives into ringlets and ground the boiled eggs, and then added everything to the other ingredients.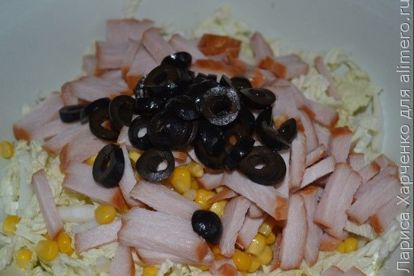 To prepare the dressing sauce, first mixed salt, peppers and cumin, and then combined this mixture with sour cream – for quite some time I have been madly in love with such a combination. Pour the prepared sauce in a salad bowl and mix well.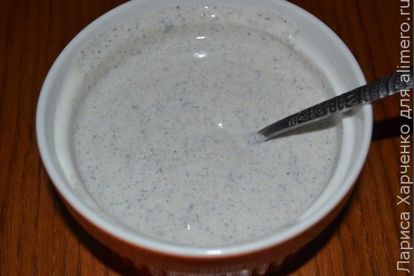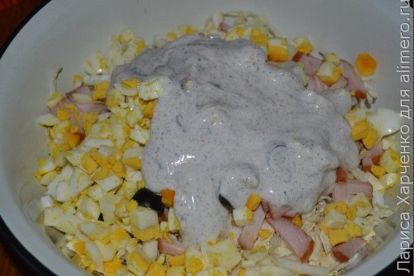 But now I add croutons and mix them – it should be already just before serving the salad to the table. If you do this in advance, they will soften and will not be crispy …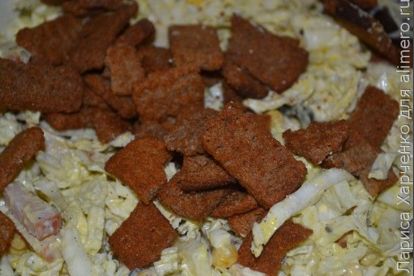 Salad is obtained with a very interesting and savory taste – try it!