Glade Salad gives a lot of space for a flight of fancy when making. Mushrooms, leaves, flowers, berries, grass – this is an incomplete list of elements that can be placed on an edible meadow. In addition, the salad is very light and tasty, besides vegetarian.
You ask why a vegetarian salad is an advantage?
Firstly, it is cheaper, secondly, the salad can be served as a side dish for a hot meat dish, and thirdly, the vegan current is very fashionable now. Suddenly, you also want to join him? For example, at one meal. 🙂
For cooking 6 servings of Glade Salad I needed:
Chicken eggs – 4 pcs.
Processed cheese – 2 pcs.
Potatoes – 5 pcs.
Marinated mushrooms – 250g
Mayonnaise – 1 cup
Onion – 2 medium sized heads
Green onions – 1 large bunch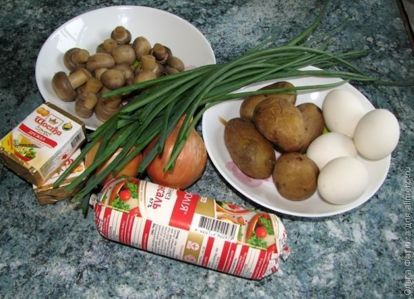 This time for Glade Salad Decoration I used such products:
Large carrots – 1 pc.
Lettuce – a small bunch
Whole pickled mushrooms – 5 pcs.
Dill sprigs – 3 pcs.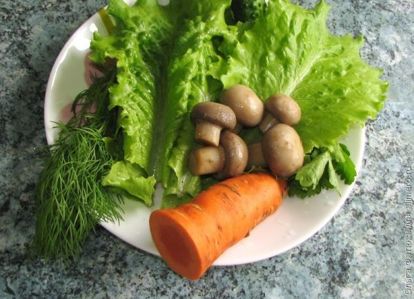 Time for preparing: 60 minutes
Complexity: low
First of all I prepare all the ingredients: boil eggs for 7-8 minutes, boil potatoes in uniform for 15 minutes.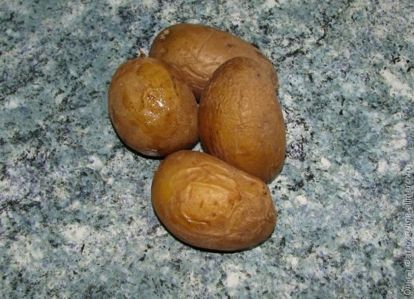 Mushrooms marina itself. I shared my recipe for marinating mushrooms in the description of Barsky salad.
Onion chop finely-finely.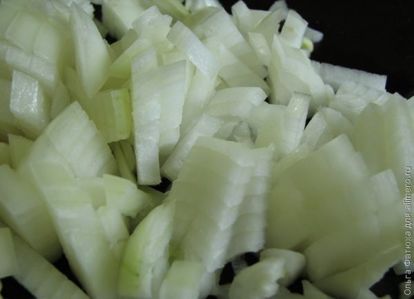 I put the onion in an enameled bowl, pour water on it and bring it to a boil over low heat. Then turn off the fire and wait about 10 minutes until the water cools a little. So I get rid of onion bitterness.
If you want to add sour pickled onions, you can pour 2-3 tablespoons of vinegar into the water.
I peel potatoes and rub them on a fine grater.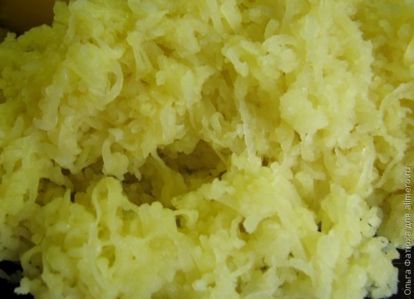 I spread it with the first layer on the bottom of the salad bowl.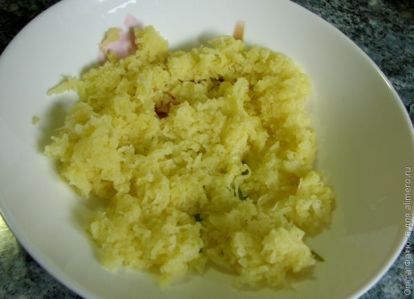 For the preparation of Glade Salad it is better to use shallow, large in size salad bowls. Then the finished salad turns out a slide, resembling a mound in the forest. And more room for decoration!
Potato watered with mayonnaise.
I squeeze the onions so that no extra water gets into the salad, and spread it in a salad bowl with the second layer.
I make mayonnaise layer.
Now I clean the eggs from the shell and rub it on a fine grater.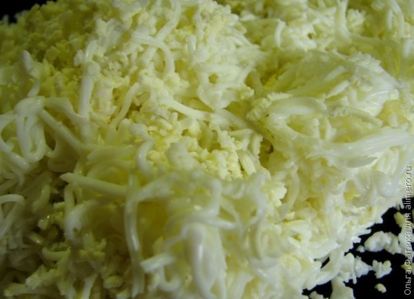 Carefully transfer the resulting egg mass into the bowl. This is the third layer.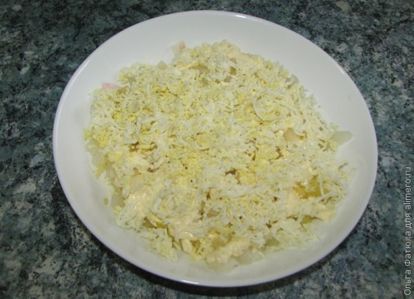 Top again with mayonnaise.
Melted curds too rub on a fine grater, spread them over the egg layer.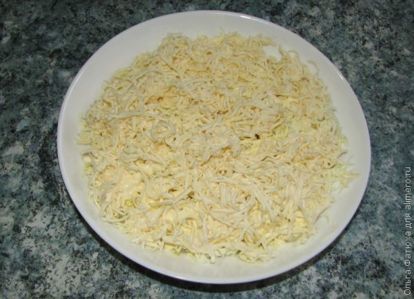 Top doing mayonnaise mesh.
Pickled mushrooms chop finely. They will be the fifth layer of salad.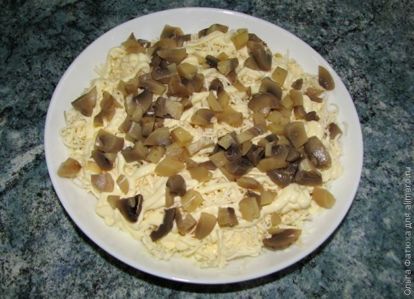 Finely cut green onions.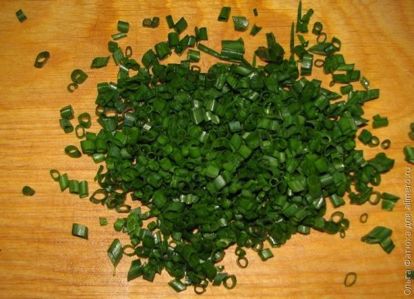 I cover the surface of the lettuce with a thick layer – this is the green carpet of our meadow.
Decoration of the finished dish
In groups on the surface I place mushrooms, near them I place sprigs of dill. From carrots (I used to take raw carrots, because I absolutely dislike the taste of boiled one) cut flowers. Lay them out. White middle do a drop of mayonnaise.
From the pieces of lettuce leaves do leaves for flowers. Pale green highlights dark green onion feathers.
Today I got this clearing.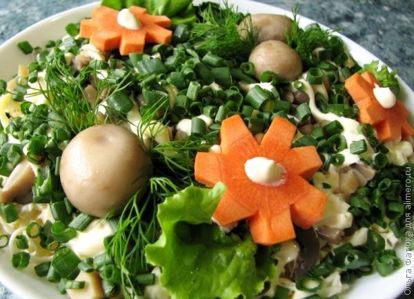 How do you decorate your favorite salads?