The microwave has been living in my family for quite a long time – exactly 10 years. During this time I learned a lot of things in it. But I learned relatively recently that it is possible to cook potatoes in a bag. And since I love to bake this root vegetable from time to time in the microwave oven, I was very interested in the recipe with the package. And after I first tried what was happening, this recipe, along with others, such as potatoes with oil or prunes, became one of my favorites.
Such potatoes are prepared in a package very quickly – exactly 5 minutes, and it turns out very tasty. You can add to it sausage or bacon at will, any other vegetables that are also prepared quickly, for example, cauliflower or green peas.
By the way, about the package. I heard that some people use the most common disposable plastic bag for this dish. But, to be honest, this idea confuses me a little, so personally I don't risk using it. Instead, I take a sleeve for baking – it copes well with the task, and is used for its intended purpose, unlike the same disposable sachets that are not intended for heating.
Complexity – everything is very simple
Time for preparing – 5 minutes to prepare and 5 minutes to bake
How to cook potatoes in the package:

So, the potatoes are peeled and cut into small cubes.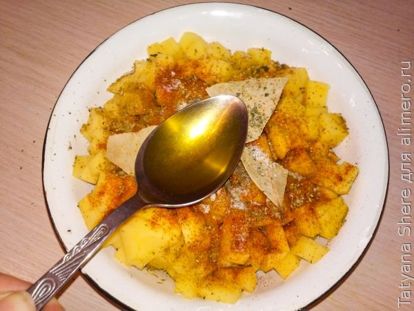 Mixed well, so that the oil and spices are evenly distributed.
Laid out in a package for baking.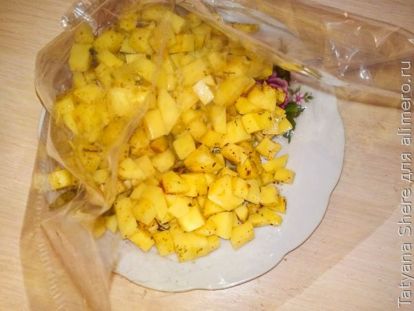 She tied the sides with a string (you cannot use metal ties that come with a sleeve).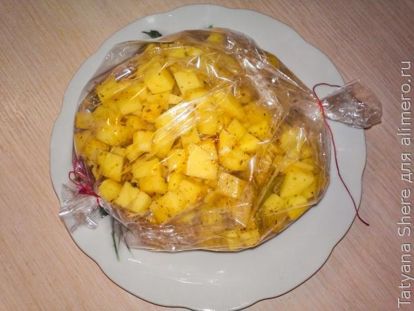 From the top of the sleeve I made 5 small punctures so that the air would go out and the package in the microwave oven would not jerk.
Set the power of 800 watts and time – 5 minutes.
Everything, later this time the potato was ready! it turns out tasty and fragrant!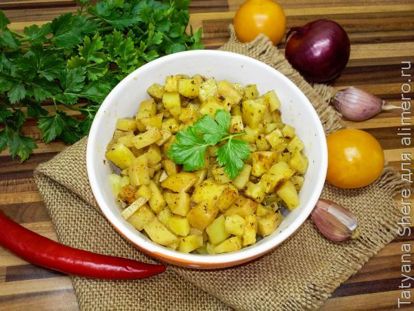 With vegetable salad is very tasty!