I am a man who adores the forest, so with great pleasure I go for any forest gifts: berries, sorrel, mushrooms, nuts. Chanterelles I like to collect very much, firstly, if you find one, consider that you put a couple of handfuls next, and secondly, you can not be afraid that they will be wormy.
If you believe the data on the medicinal use of chanterelles, they have a beneficial effect on the liver and vision due to the specific substances in their composition. But even if all these advantages are not taken into account, a frying pan of potatoes with chanterelles is a celebration of taste! I offer a simple recipe.
Ingredients:
chanterelles – 500 g
potatoes – 6-8 pieces
onion – 1 pc.
sunflower oil
salt.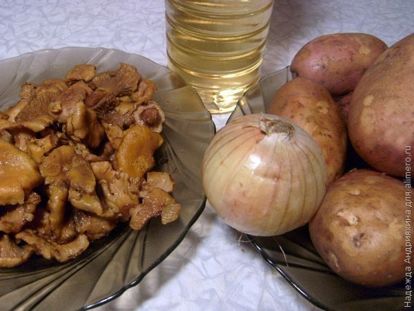 Chanterelles are not difficult to sort out, given that there will be no worms, you just need to clear the litter, cut the large ones into several parts, leave small ones as they are.
We wash the chanterelles and throw them into the pan to bring it to a boil, this will free the mushrooms from those impurities that are difficult to wash off, because the mushrooms make their way through the soil, fallen leaves and grass.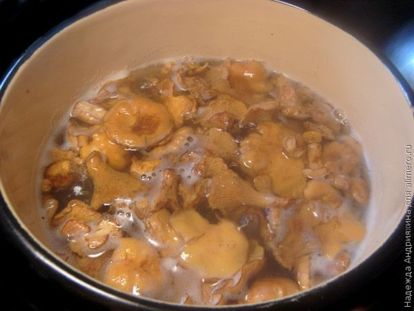 Merge the chanterelles into a colander, let them drain, quickly rinse with cold water.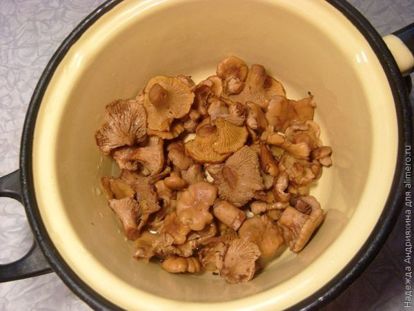 We shift the chanterelles to the hot pan, you can not add or add very little oil at first, let the water evaporate. When it evaporates completely, then we add the oil and fry over a small fire, while in the meantime we will deal with potatoes.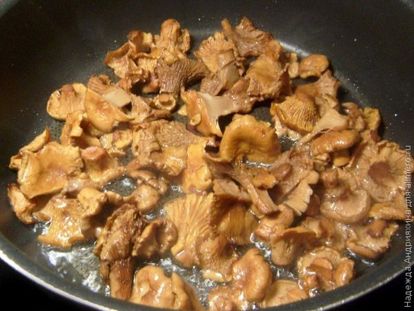 Peel the potatoes and cut into cubes.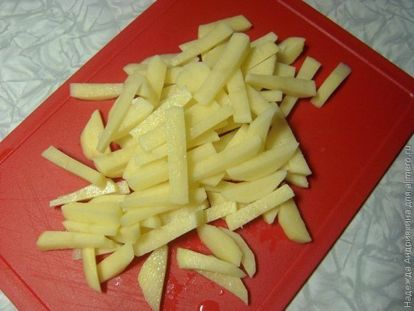 In general, I usually fry the mushrooms separately, separate the potatoes to foam, and mix them, but this time the noses constantly injected into the kitchen, they intensively inhaled the mushroom smell, so I decided to speed up the process and immediately add the potatoes to the mushrooms. This method is also quite acceptable.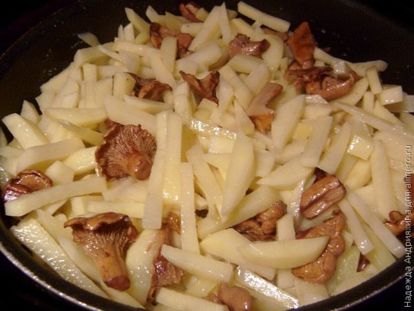 Fry, without covering, until a ruddy foam appears on the potatoes, and when the potatoes are fried, we add salt and add chopped onion. I do not add other spices, I love the pure mushroom flavor.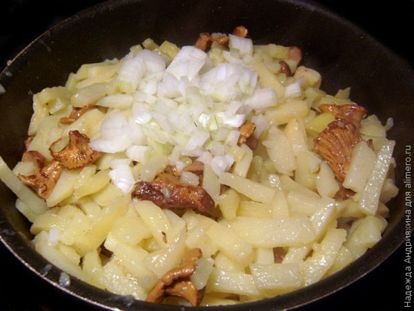 If you want to quickly soften the onions and add the taste and smell of the dish, you can cover with a lid, but then the potatoes will not be crispy, but more like a stew, as in this case I have.
Potatoes with mushrooms are a completely independent dish, to which only greens can be added, but vegetables, fresh or canned, are quite suitable here.