My husband loves potatoes, but even she bothers him sometimes. Especially, in a simple boiled form. But such triangles she leaves us very, very fast! When you try to cook yourself, you will understand everything perfectly!
Degree of difficulty: average
Time for preparing: about 1 hour or a little more
Ingredients we need:
We clean the young potatoes, pour some water. We set to cook until full readiness. When boils, let the umbrella of dill for flavor, bay leaf, salt.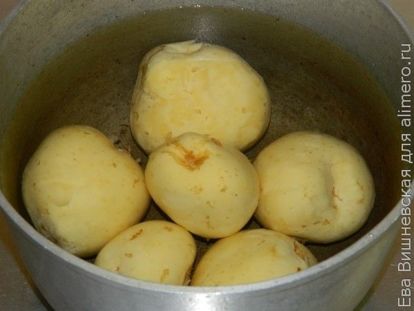 Cool the cooked potatoes to room temperature. Cut into small cubes.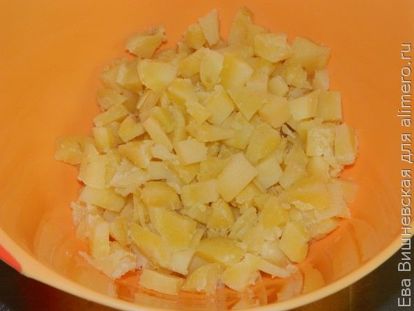 Cheese (any, but not soft varieties, I have Marble) rub on a coarse grater.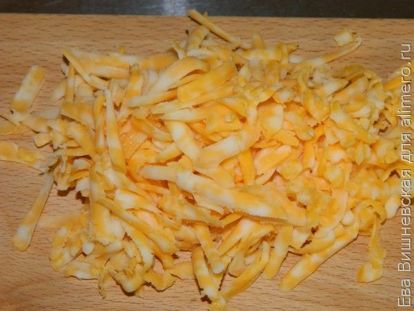 To the potatoes let the cheese, raw egg and yogurt from the store milk (although it is possible from the village).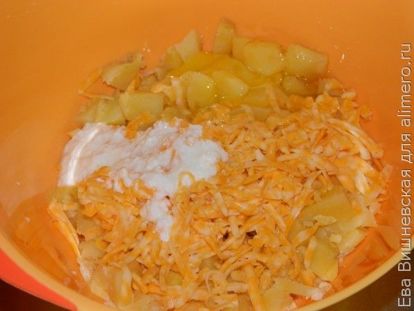 Add ground black pepper and salt.
Mash this mass, but not quite mashed – leave the potatoes in slices, albeit smaller ones. You can knead with a spoon or fork, if it is more convenient – with a pestle. But the usual masher is not necessary, no pieces will remain.
Add a spoonful of flour. You can ordinary, wheat and the highest grade, and can be wholemeal or rye, buckwheat.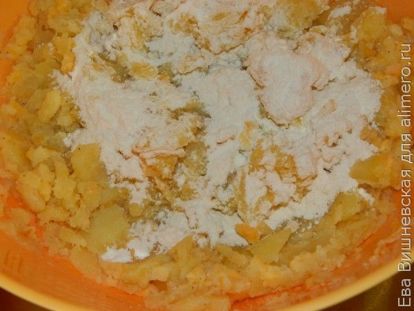 Stir flour. Pour semolina on a plate. You can take the breadcrumbs or again the usual flour, or corn grits (flour) very finely ground.
We sculpt triangles of any size with hands from a ready-made potato mass, but it is better not to be very large – it is more convenient to turn over so that they will not crack.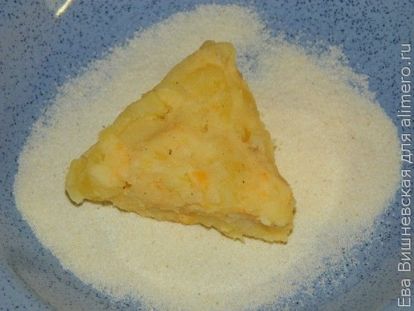 We roll the triangles on both sides and from the narrow sides, also in semolina. We spread on a well-heated pan with butter.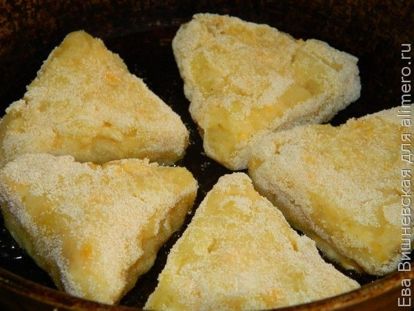 Fry without a lid, on medium heat, for 2 minutes on each side or a little more – look at the ruddy crust.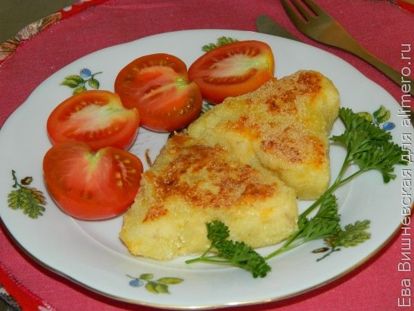 It turns out very satisfying and incredibly tasty dish! With the usual boring potatoes just do not compare. Good appetite!