I'm back to you with yams. Because I finally tasted it, and I can confidently say: it is definitely worth it to use it in my menu. And he is very useful. Yes, yes, read what the Internet writes about him, and then surely you will not be able to pass by the sweet potato.
In general, I am glad that last year we planted sweet potatoes. And although I can't get used to the taste of pure sweet potatoes, the sweet potato goes very well with the potatoes, and the dishes are very tasty and interesting.
Today I cooked potato gratin with sweet potatoes. It turned out quite unusual and very tasty.
Difficulty – completely missing

Cooking time – approximately 1 hour

For the preparation of potato gratin with sweet potatoes you need the following products: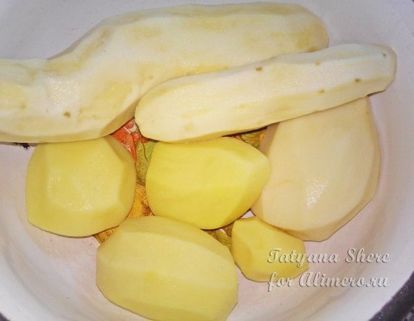 Sliced. There is no food processor in the village, so I had to chop everything with an ordinary knife.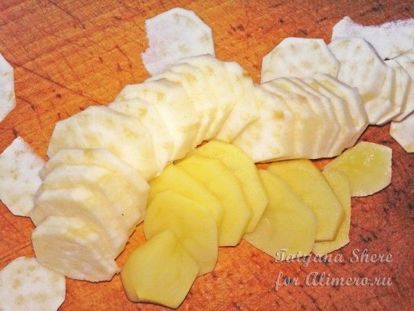 Now there are 2 scenarios. Option 1 – immediately put everything in a baking dish and send it to the oven to prepare the gratin until ready. I used to do just that, but I always had one unpleasant moment: I always poured the cream flush with the potatoes, and in the oven, when boiling, the cream always splashed out. Then I had to wash the oven for a long time and tediously.
Option 2 – not so long ago, Tanya shared a great idea: start cooking in a pan, and then bring to full readiness in the oven. I did just that. Tanya, thank you! 😉
So, heated in a pan, olive oil.
Laid circles kartokhi and yam.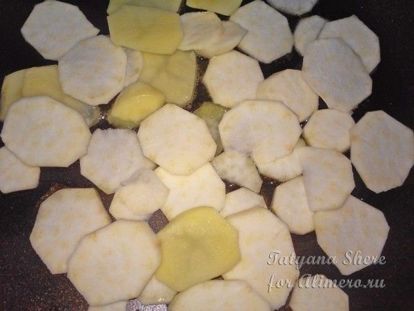 Salted, peppered, added sprigs of fresh parsley.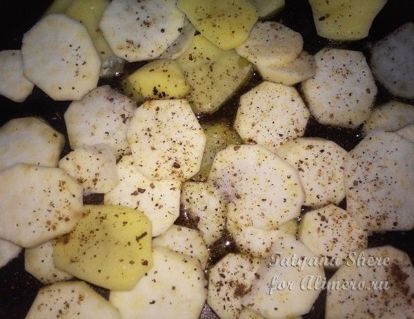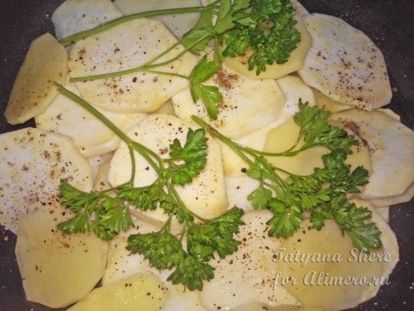 Then – the next layer of potato and sweet potato slices, spices, parsley. And so, until the potatoes and yams are over.
In addition to spices, she added lavrushka and garlic cloves to the very last layer.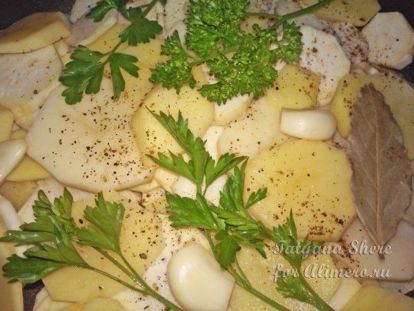 Poured cream and added some water. Approximately at such level that there was a liquid:
She covered the pan with a lid and after boiling extinguished it for 10 minutes.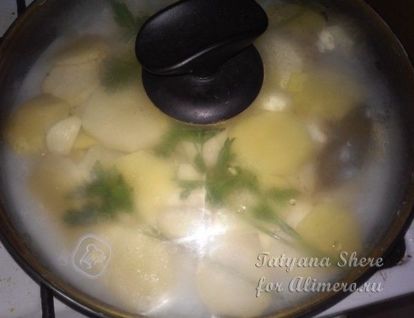 Then she removed the garlic and bay leaves, put them in a heat-resistant saucepan and put them in the oven for another 10-15 minutes.
That's all, potato gratin with sweet potato is ready!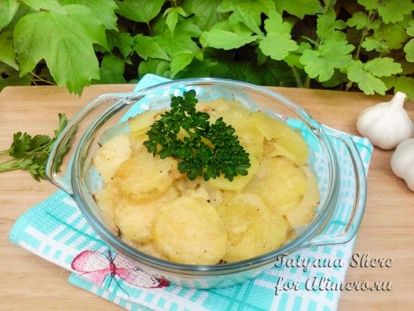 Enjoy your meal!