You can easily use this dish of Italian cuisine as a side dish to the main dish, or as a snack on a festive table, or instead of sandwiches for a snack during the day – in any case, you will not be limited to one cake!
Focaccia is a wheat cake that resembles a pizza, but differs from it in its composition and preparation. Fockachine is smaller than focaccia.
In general, this name goes back to the Greek word meaning baked in ashes. And today we will bake special cakes, which will include mashed potatoes. It will give the dough a soft and tasty flavor.
For the foccaine you will need:

For submission:

– 100 grams of salted lard (you can substitute dry-cured ham if you wish),
– lettuce leaves
– 4 tablespoons of vegetable oil (ideally, olive oil),
– 1 tablespoon of honey (preferably – chestnut, I – lime),
– 1 tablespoon of balsamic vinegar (I used the usual table),
– salt.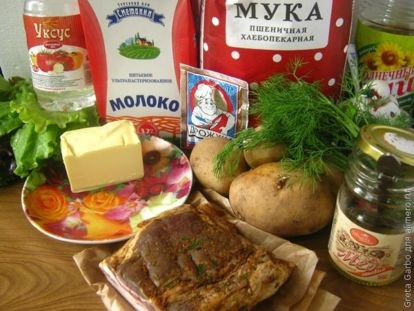 As you can see, I had to replace some products with more familiar ones, having adapted the dish for our kitchen. Nevertheless, it turned out delicious!
1. Boil the potatoes in a uniform, peel and cut it into several pieces.
2. Mix milk with 100 ml of water and heat it up a little.
3. Add butter, salt, pepper, sliced ​​potatoes and yeast to the milk. All punch blender.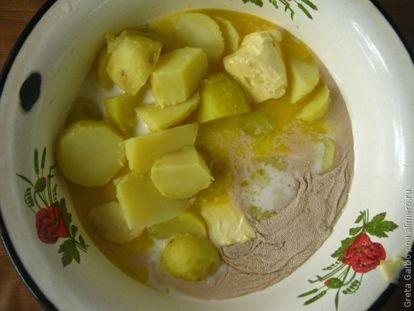 4. Add flour and chopped dill and knead the dough. Leave for 40 minutes.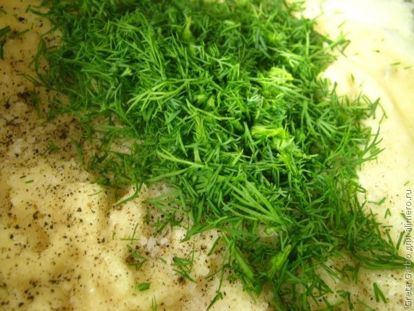 5. Roll out the finished dough into a layer 0.5–1 cm thick. Cut circles using the glass.
6. Cakes can be baked at a temperature of 220 degrees for 10 minutes. And you can fry them in a pan with the addition of vegetable oil (I liked this option more).
7. Cooking salad. To do this, mix the lettuce leaves mixed with dressing (vegetable oil honey vinegar salt).
8. On the finished cakes lay out a little lettuce and a thin plate of bacon or meat.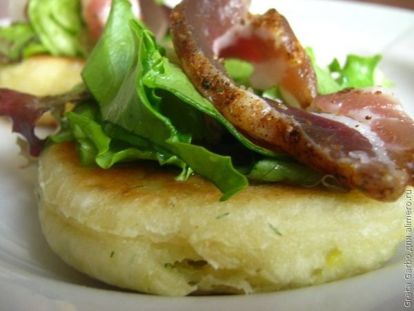 Ours are ready! Bon appetite!