Freshly baked yeast pastries with salty stuffing are always appropriate for the dinner table and, as a rule, do not stay long. And if you bake banal wind pies with potatoes in the shape of a beautiful rosy flower, then those who want to taste such baked goods will immediately increase!
Of course, you can use any stuffing – it all depends on your family preferences. The most important thing is that the process of such interesting molding of pies is not at all complicated, but on the contrary – very fascinating.
I had once offered the recipe for a large flower-shaped pie filled with eggs and green onions to the readers of the resource. I admit that with small flowers everything turns out much easier and more entertaining.
For kneading yeast dough, I used:
For the filling I needed:
– 2 potatoes
– a pinch of salt
– 10 g butter
– 1 egg
– flax seeds
Level of difficulty: moderate
Time for preparing: just over an hour
The sequence of our actions:
I can safely assume that such a beautiful and interesting pastry will be incredibly tasty and in demand, if you prepare it from any dough. I also wanted to make these patties soft and lush, therefore I decided to use in this case yeast dough.
At first I combined sugar and dry yeast, added warm water and waited until this mixture came to life.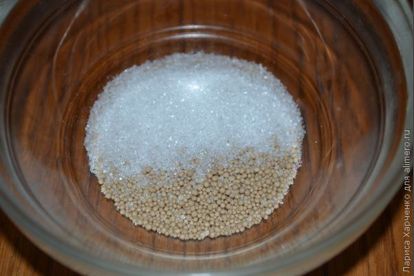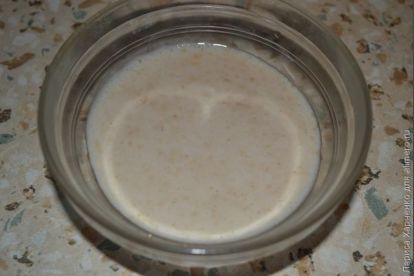 During this time I managed to peel the potatoes, add water and put it to boil.
Now, gradually adding the remaining ingredients (yogurt, softened butter, beaten egg, a pinch of salt and sifted flour), knead the soft elastic dough.
I confess that I didn't have to put the dough for proofing – until I had already converted potatoes into mashed potatoes and filled with butter, my dough was growing before my eyes, and I decided to immediately start making pies.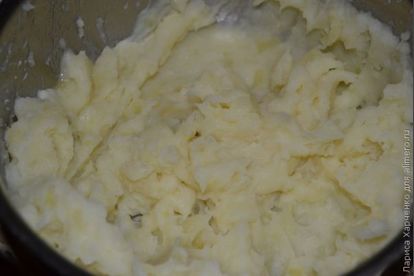 For this, I once again crushed it, divided it into six equal parts and rolled it on flat cakes.
In the center of each tortilla it is necessary to lay out a tablespoon of filling (in this case, already slightly cooled potato puree) and to make a solid edge.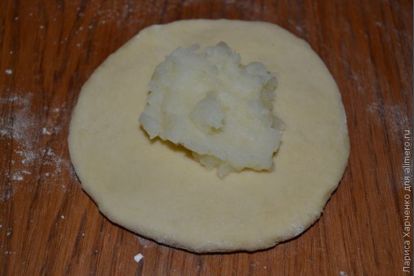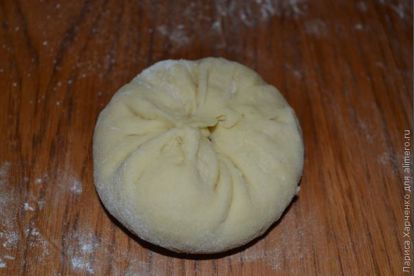 Now slightly roll this ball into a lozenge again and make small cuts in a circle – such are the petals, not reaching the center.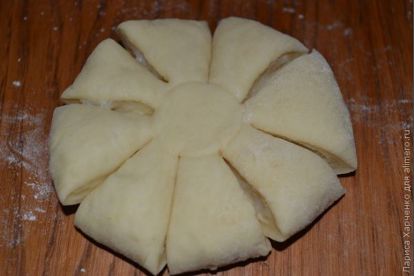 Now we have these petals formed, we boldly turn 90 degrees in a circle, and preferably in one direction.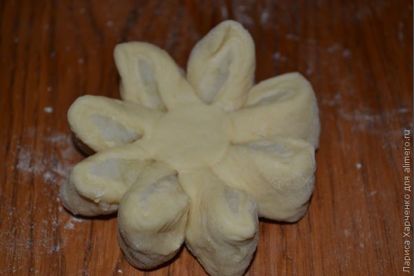 We spread our pies, flowers on a baking sheet, grease with a beaten egg, and decorate the middle part with flax seeds.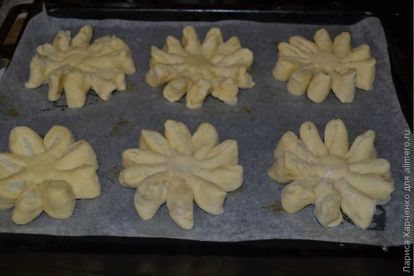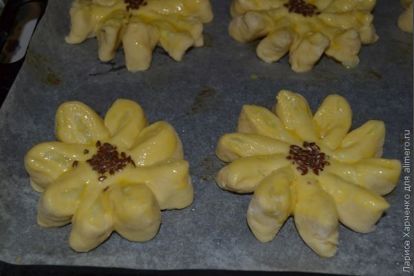 I baked my flower patties for about half an hour at about 180 degrees.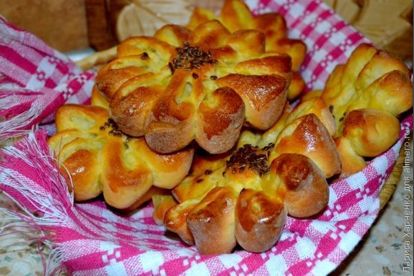 As soon as I had time to photograph them, the pies dispersed instantly. The next time you need to do a double portion.