Pizza is one of the most favorite dishes in my family. Therefore, I bake it often and with different fillings. But still the essence is one. And today I wanted to make more variety in this type of baking.
Often, pizza is made without any sides. True, me and my family still like the opposite option. It is explained simply – we all love tasty dough))
In today's pizza, the side consisted not only of the flour base … I will tell you more about this now. This recipe will definitely appeal to lovers of sausages in the dough!)
The first thing I did for sausages. Took 8 pieces (450 g), because I did not know how much it would need.
I do not trust 100% sausages and wieners, so I decided to boil them in front of the oven anyway. At least, during the boiling, pink water comes off many – dyes are washed out.
And although I bought the most expensive sausages for pizza, with a claim for naturalness, I did not refuse this procedure. But so that they do not crack, removed the shell from them, flooded with water and boiled a little less than usual from the moment of boiling – 5 minutes. Yes! And yet – let the bay leaf. So I ennoble all such products))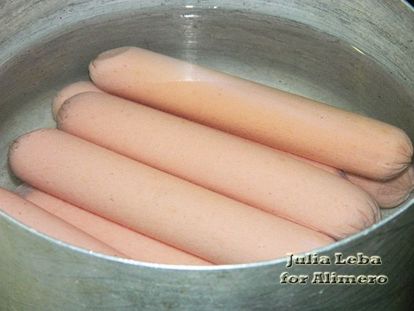 The dough rolled out a centimeter 2.5-3 more than the diameter of the form.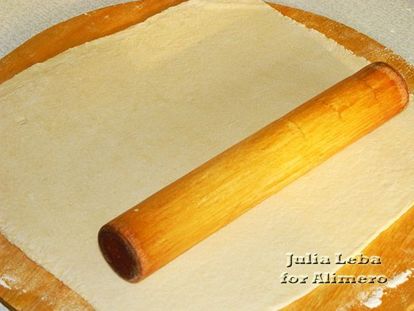 Form greased with butter, put the dough into it.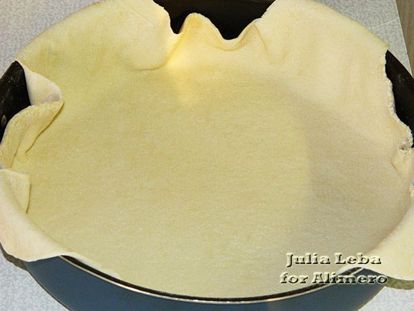 Boiled sausages cut in half and put in a circle, creating a side. I fit 13 halves, i.e. Not all 8 sausages were involved, but 6.5.
She covered sausages with dough.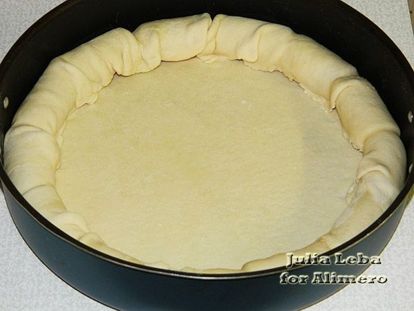 I made cuts approximately every 0.7 cm. It is possible not so often – after 1-2 cm. Then there are two options – leave this way or turn it up after the cut with sausage up. But I decided to keep the intrigue from the edge of the pizza to the last))
Smeared the bottom with olive oil. Tomatoes washed, peeled, cut into circles and tightly laid.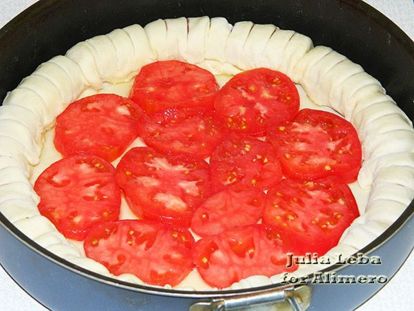 Squeezed garlic, sprinkled with salt and freshly ground peppers.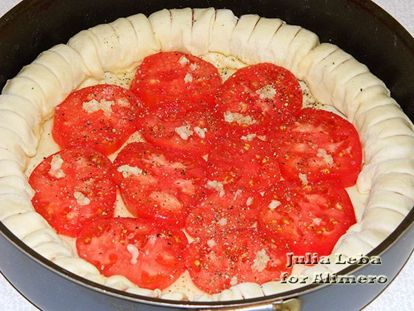 Then chopped parsley.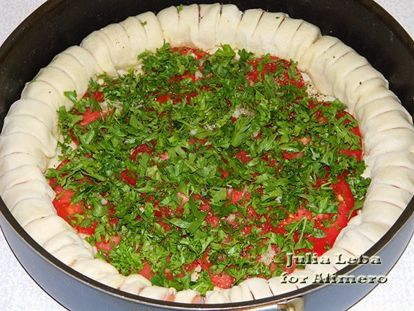 Thickly coarsely grated cheese.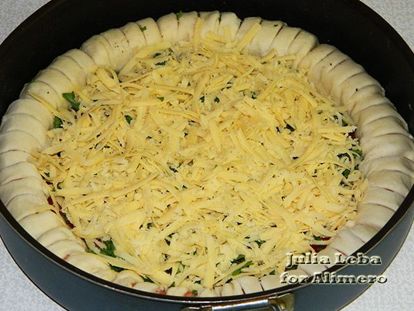 Sent to the preheated 200 'oven for 15 minutes.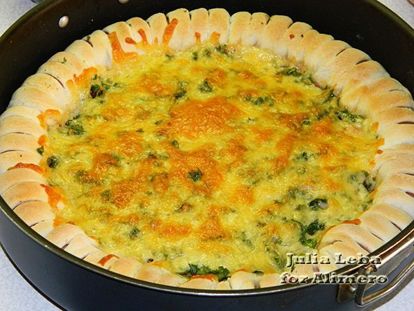 Pizza turned out thin, and the edge is nourishing 🙂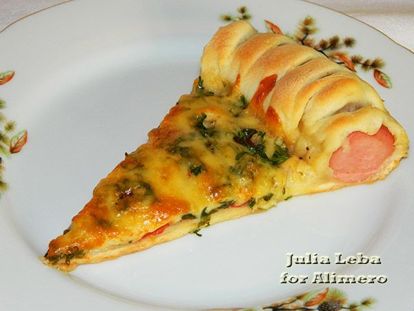 A symbiosis of pizza and sausages in the dough fell to me and my home for the soul! Interesting and tasty! 😉