There are memories in my head that are deeply deeply rooted. One of these I have – my mother's dishes. I have been fasting for about 15 years and during this time many different recipes have accumulated. In my 14-15 years old mother often cooked soy dishes. It was very tasty and satisfying, I remember quite accurately so far.
I myself have not been cooking soy dishes for quite a while. Somehow forgotten, the passion for cooking did not give reason to reflect on what had already been a long time ago. But on the supermarket shelf I saw a very familiar package of soya mince. The idea with the cake was drawn immediately.
To prepare you will need:
Approximate cooking time: 3 hours (taking into account the time for the test approach).
First knead the dough. First mix all the dry ingredients.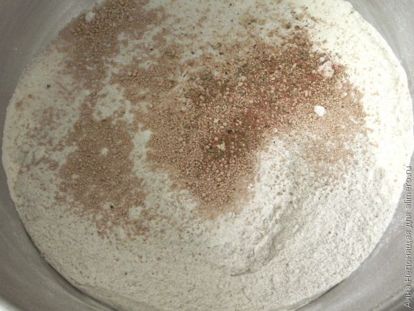 Next, gradually pouring in the heated brine, knead the dough. It turns out soft and very fragrant. It is left under the film for an approach for 1 hour. At this time, you can do stuffing.
Soya mince requires preliminary preparation. We bring 1 liter of water to a boiling state, add mince there. Turn off the gas, cover the pan with a lid. Let it brew for 15 minutes.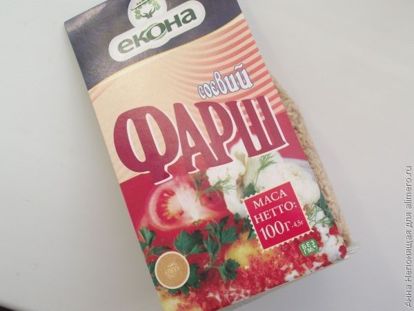 After the allotted time, pour out the water, lay the stuffing in a colander and let it drain.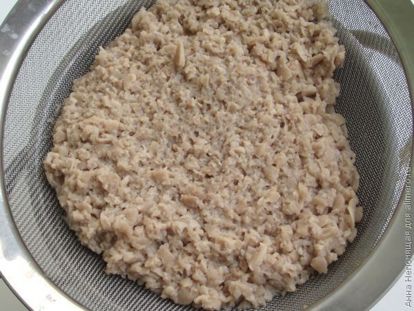 Chop onions and carrots, fry on a small amount of vegetable oil.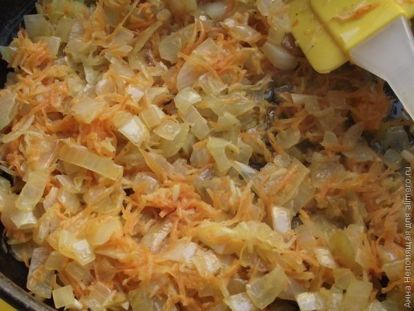 In the ready-made vegetables lay out the soy mince, season with salt, pepper and soy sauce. The filling is ready.
We crush the dough that comes up, divide it into 2 not equal parts and start to fantasize a little.
Lined the bottom of the form with a thinly rolled dough, spread the filling. Top lay the rolled layer of dough, carefully pinch the edges.

This time I decided to decorate baking more interesting. From the dough cut flowers plunger for mastic. Here any molds for cookies, mastic will fit. Make a cross-cut in the middle of the cake.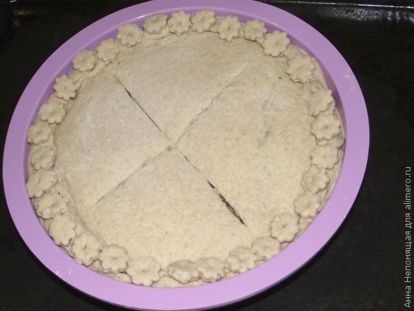 Bend the tips to the edges of the cake. Cut a flower into the hole with a cookie cutter.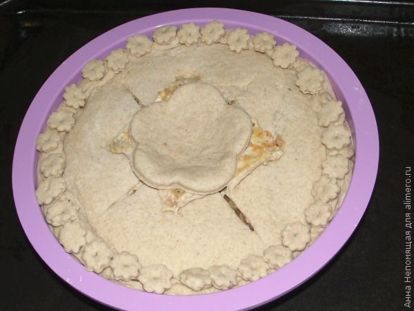 We make the middle one out of a flattened piece of dough. Brew strong black tea and brush out the cake with a brush. The oven is heated to 175 degrees.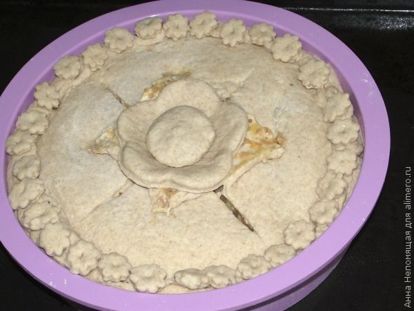 Bake the cake for about 30 minutes, occasionally lubricating the top of the product with a brew.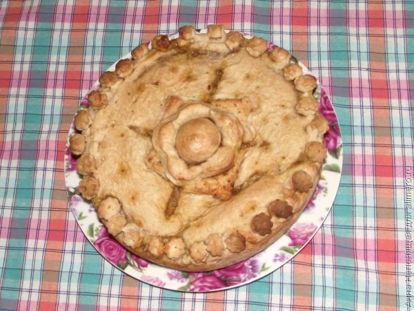 The dough is soft, there is a lot of filling and it is very juicy. Served with pickled cucumbers, zucchini. In general, homemade pickles are most welcome here.