Today I first baked a cake with sorrel. I have long noticed this recipe, but still could not decide to combine this plant with sweet pastries. It turned out very vain – the cake turned out wonderful!
Pie with sorrel in this recipe is prepared very quickly and easily. And the end result in the form of a fragrant, fluffy cake with natural sourness will not leave you indifferent.
At least, did not leave anyone in my family. Even a two-year-old daughter enjoyed eating it. And I was glad that at last I could enjoy a biscuit and not worry about those extra pounds. Throughout the cake turned out only 1500 calories.
In general, I was very pleased that I was able to combine sweet pastries with vitamins and low calorie content.
The difficulty of cooking: very, very simple
Cooking time: 40 minutes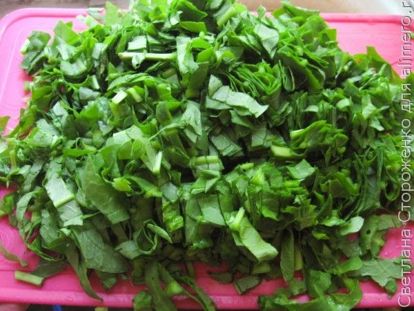 I cut it not very finely, as seen in the photo, and worried a little about its structure while the cake was baked. It turned out that I was experiencing nothing, sorrel was perfectly baked in the dough and almost not felt.
Preheat oven to 180 degrees.
Then make the dough, as for a regular biscuit.
Thoroughly beat sugar with eggs.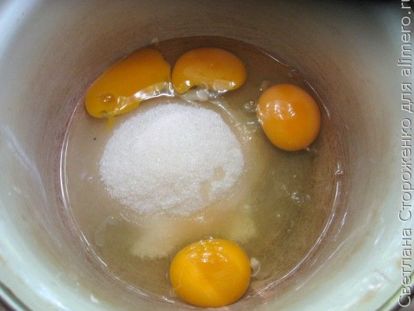 I often hear that the longer we beat eggs with sugar, the richer is the sponge cake. To be honest, I didn't find a direct relationship between the whipping time and the pomp of the final product, so I beat the eggs with sugar to a thick foam for a couple of minutes. Or am I justifying my laziness?