For me, autumn and winter are time for pies. When it's cold outside, you want to pamper yourself with a cup of fragrant hot tea with a piece of delicious pastry. So why should you deny it? Let's bake a cake that is not only delicious, but also beautiful. It may seem at first that it will be difficult to make such beauty, but do not panic. Cooking such a pie is no more difficult than to stick dumplings.
Ingredients for the dough:
Ingredients for the filling:
– minced chicken – 250 g
– sauerkraut – 400 g
– two medium sized carrots
– one medium onion
– vegetable oil for frying — 4–5 tbsp.
– sugar – 1 tsp.
– salt – 1 tsp.
Degree of difficulty: average.
Time for preparing: about 2.5 hours.
Sugar and dry yeast (1 tsp each) I dissolved in cup of warm boiled water. I left the resulting water-yeast solution until the beginning of the fermentation process, which will be indicated by a lush froth cap. Her appearance came in about 10-15 minutes.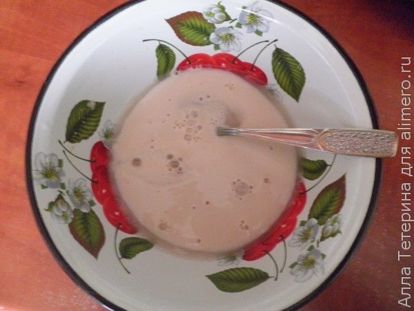 At the next stage, I poured the remaining water, added eggs, mayonnaise, sugar, salt, soda, vegetable oil, and stirred everything thoroughly. Then, in portions, she poured three cups of flour and kneaded some neat dough.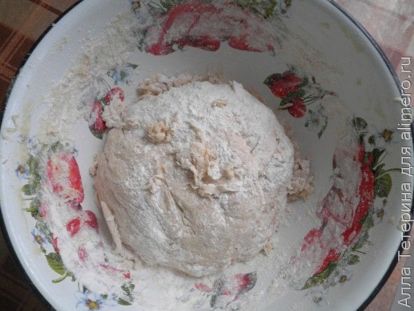 The dough sent for 90 minutes in a warm place to come, and she started cooking stuffing. Minced meat salted and fried in vegetable oil. While roasting the minced meat, you can add seasoning or spices that you usually add to meat.
Pressed juice from sauerkraut so that the filling did not turn out to be liquid. Both carrots rubbed on a coarse grater, sliced ​​onion into small cubes. She added cabbage, onions and carrots to the mince, roasted 15 minutes and allowed to cool.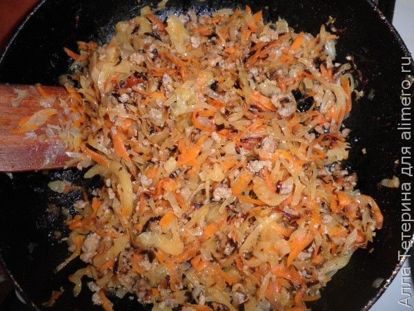 When the dough has come, and the stuffing is cold, proceed to the formation of the pie. From the layer of dough, rolled up to 5 mm in thickness, extrude round billets with a glass. The number of honeycombs in the cake will depend on the diameter of the blanks. You should not squeeze out too small or large circles. In the center of each circle put a tablespoon of filling and pinch like a dumpling, but only the edges. Place the blanks on a paper-covered baking paper and an oiled form.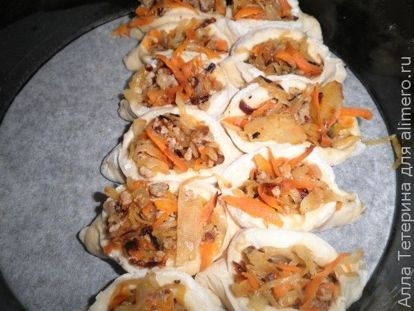 I took a round shape, but you can use another one: rectangular or in the shape of a heart. It seems to me that the appearance of the cake will only make it more interesting.
Important: blanks must be laid from the center to the edges, filling the entire form.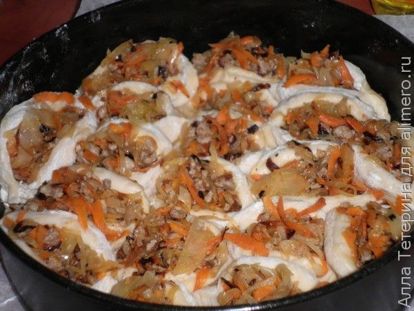 The baking time of the cake is 40-50 minutes in the oven at 180 degrees.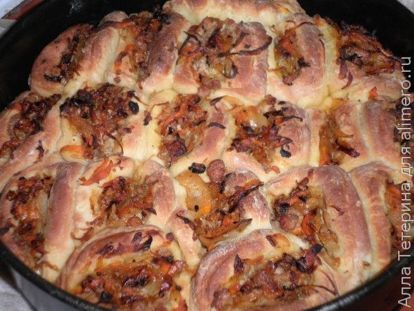 I liked the cake more, not hot, but already cooled. The next day, the dough remained very soft, and the filling was juicy. I plan to try to make a pie with sweet filling in the form of honeycombs: jam, fruit or cottage cheese.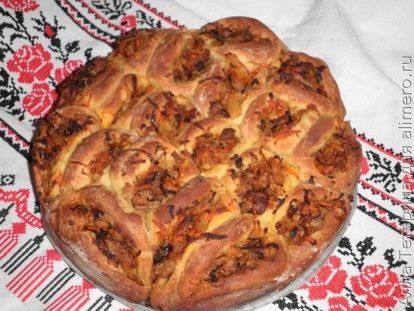 This cake, in addition to the original appearance, has another plus. It is possible not to cut it, but to break off individual honeycombs with filling.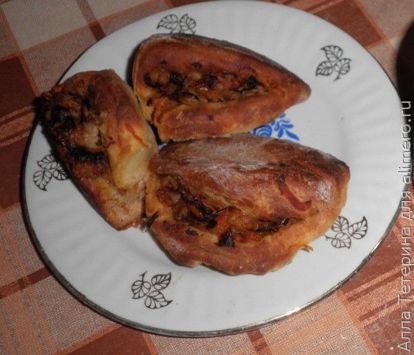 I hope you enjoy this cake too. Enjoy your meal!