It happens very often that I want to bake something and there are no eggs in the fridge. And besides, the apples are still not over, they lie, they spoil.
The usual charlotte was tired … And then I came across a wonderful recipe: a quick and tasty cake with apples from flour and semolina. It takes me 12-15 minutes to prepare it.
So, for the dough you will need: 1 cup of flour, 1 cup of semolina, ½ cup of sugar, ½ tsp of soda, about the same amount of citric acid. Depending on the juiciness of the apples and the presence in the fridge, I take some butter and sour cream. And about 6-8 apples (depending on their size) with sourness, ground cinnamon (optional).
I pour out all the ingredients in one container, mix.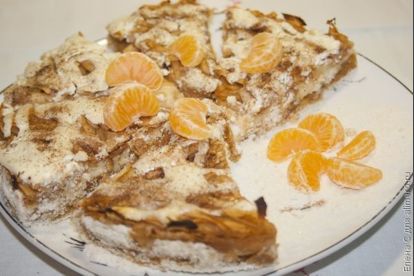 In case you get a completely un juicy variety of apples, you can already make several holes in the fully-shaped cake and pour about a glass of milk into it.
And a small addition. The bottom layer never gets completely soaked with me, there is always dry crumb left, but my eaters like it, it is interesting to crunch on the teeth.