I have always considered red currant to be one of the most useless berries … However, this cake turned my idea of ​​it on its head! Souffle from it – just delicious! 😉
Since this berry itself is quite acidic, a decent amount of sugar is usually used for blanks (jelly, compote, etc.) … For me, all this is cloying. And I don't like a sweet drink at all – be it coffee, tea, cocoa or any other drink.
Besides the Leto red cookies, I had not used this currant anywhere before. And now I have discovered the real bliss of taste thanks to the most delicate soufflé … I share the recipe! 😉
Difficulty: medium
Time for preparing: 1 hour 15 minutes
Ingredients for the base of the cake *:
* You can add sugar to the dough, but for my taste it is enough in the souffle.
Ingredients for soufflés:
– 350-400 g of red currant
– 100 g sugar
– 2 egg whites
– 1 tbsp. starch
– a pinch of salt
At first I took the dough, because after cooking, you need to send it to the refrigerator for 30 minutes.
Sifted flour along with starch and soda. Added a pinch of salt.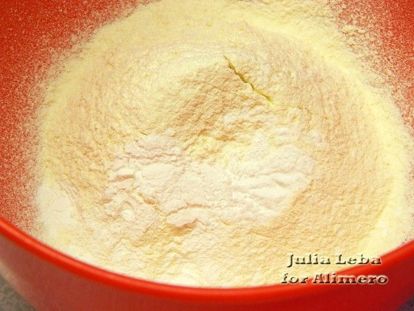 Butter, just taken out of the refrigerator, cut into arbitrary pieces. Laid out to flour.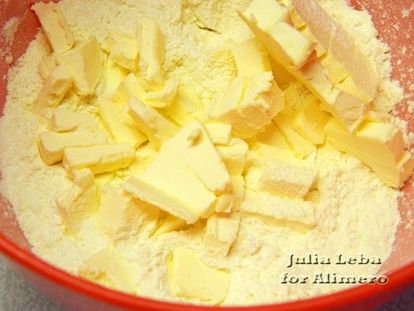 After that, she washed her hands and wiped them thoroughly. Dry palms grind loose ingredients with oil until crumbs form.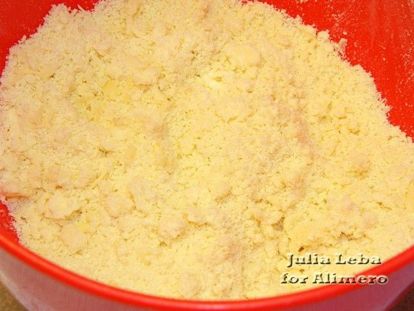 Squirrels separated in a clean and dry dishes, put in the refrigerator. Yolks laid out to crumbs.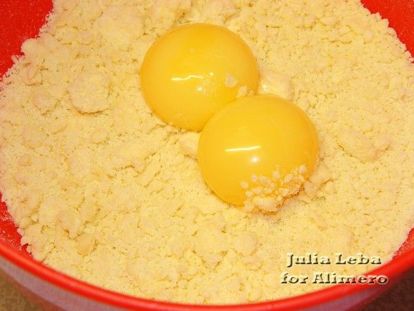 Knead elastic dough. I put it in the food package in the fridge for half an hour.
After that took up preparing souffle. Red currant berries freed from the branches, washed with cool water.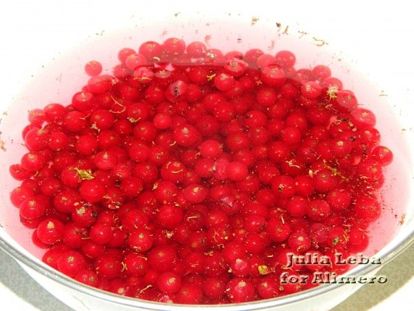 Colander set on a clean empty dishes. Poured there some berries.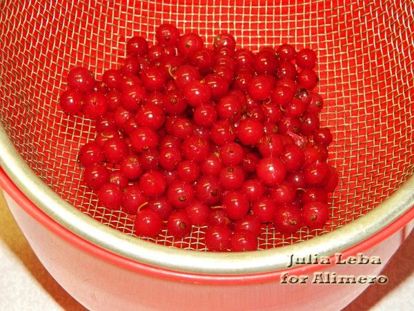 Gently (so that there is no spatter) rubbed them with a spoon. Same repeated with all the berries.
I threw out the remaining cake, although it can be used in cereals or for cooking compote. For this recipe, only blackcurrant juice is needed.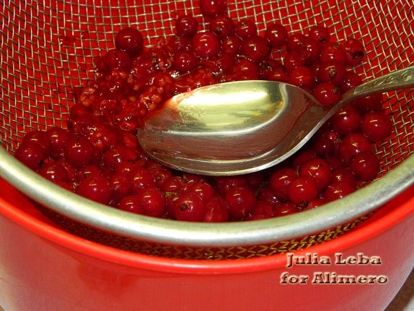 The dough was taken out of the refrigerator and crushed in a shape lubricated with sunflower oil. Made quite high bumpers.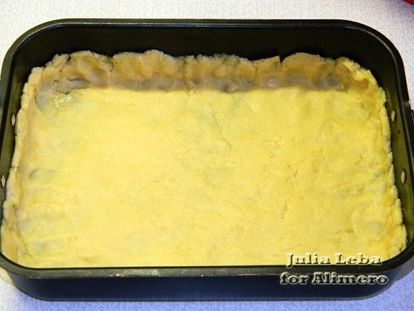 Shipped in the oven and baked the base cake for 12-15 minutes at 200'C.
During this time, whipped squirrels into strong snow foam for meringue.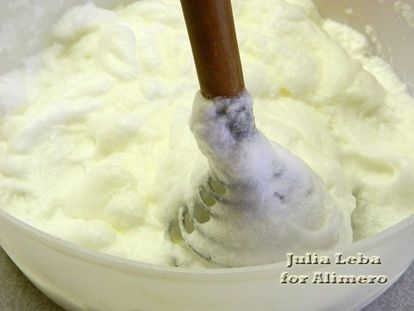 Then added a pinch of salt, sugar (gradually) and starch. Beat another 5 minutes.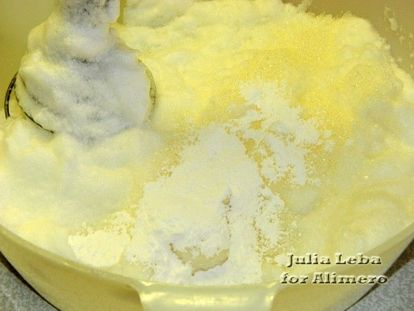 To the resulting glossy mass poured currant juice.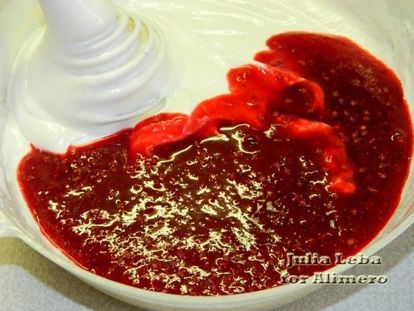 Carefully stirred. The result was an airy mass of pleasant pink color.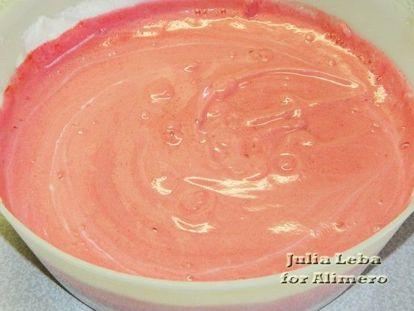 She took the baked dough out of the oven.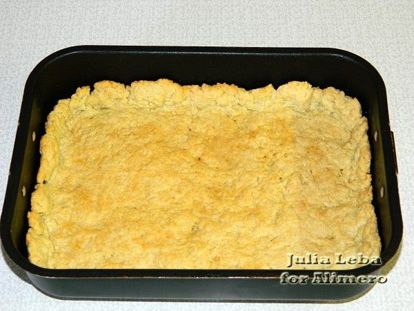 Poured on him protein-currant mass.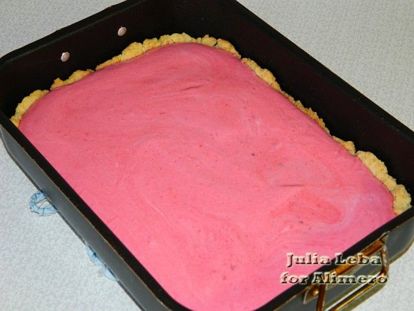 Sent to bake in the oven at the same temperature for 15-20 minutes.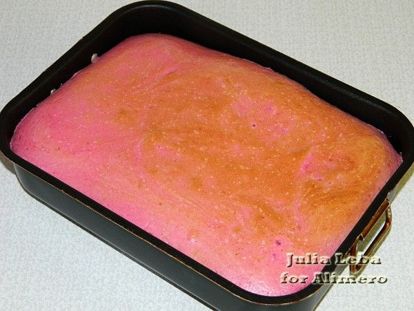 Watching the top. You can fry harder, and you can light golden-brown blush.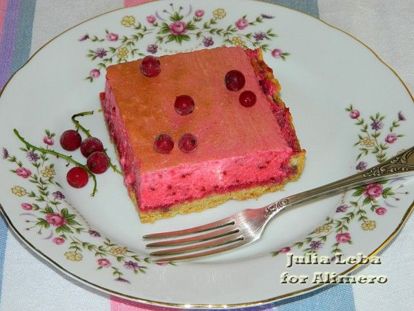 The cake is beautiful as it was just taken out of the oven, and after a few hours.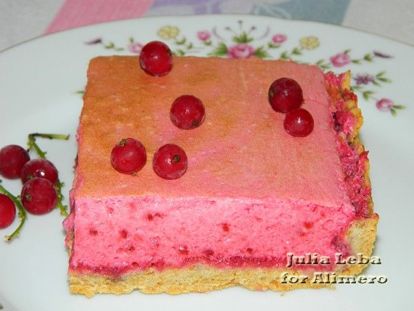 I admit, I very much regretted that I took such a norm of products … If I could initially suggest this amazing taste of an unusually tender souffle, I would double the number of all the ingredients.
From this cake, I absolutely love it! 😉