Pie Sun is a variation of tasty and simple treat.
The dough for such a cake is made puff. You can either buy it ready, or cook it at home, as I did.
The original was used fish. But since my children do not like fish very much, they had to replace it with chicken. I really liked this substitute, so now I cook this pie with chicken only.
For the cake, the Sun needs:
– green onions – a bunch
– boiled eggs – 3 pieces
– boiled chicken – 200-300 g
Cooking time – 10 minutes for kneading dough, 2 hours for the refrigerator and 30 minutes for baking.
Butter should be taken cold. We leave a part for further manipulations, and cut most of them (150 g) with a knife. Pour flour and all trying to chop up.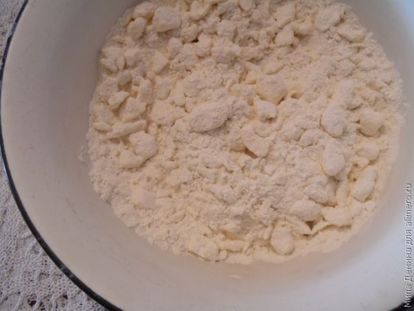 When the fat is mixed in this way with the flour, add the egg, milk and knead the dough. Take the remaining oil and lay it on a pre-rolled square of dough.
Roll up the dough and roll it with a rolling pin, thus forming layers of dough. Such manipulations should be carried out at least 5 times. Then the dough is wrapped with food captivity and sent for 2 hours in the cold.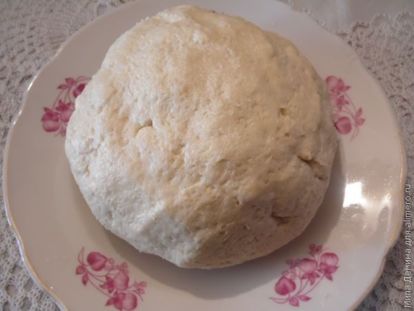 Now there is time to do stuffing. To do this, boil the chicken. Crush it with green onions.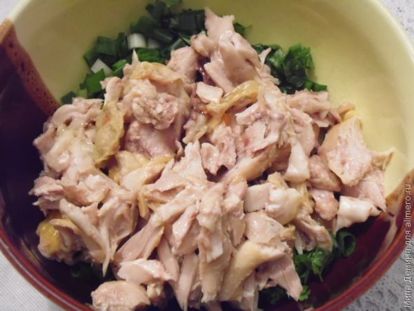 Eggs, too, boil, grind and send in a bowl. Mince need to salt and pepper.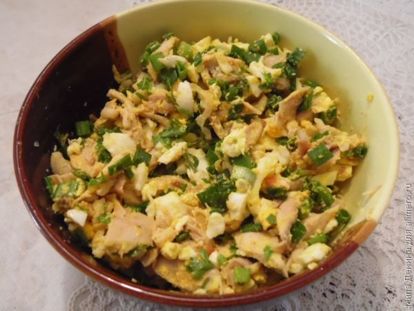 After 2 hours we take the dough out of the fridge, divide it into 2 parts. Roll out one piece right on the baking sheet. In the middle lay out all the stuffing.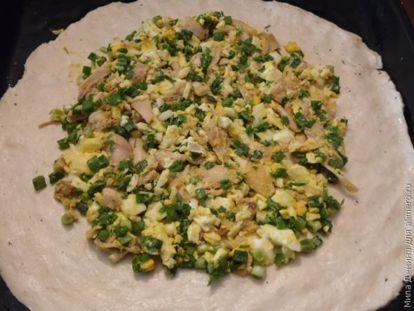 Cover the second half of the rolled dough. With a knife we ​​make small rays from our sun. Grease the cake with egg and send in the oven.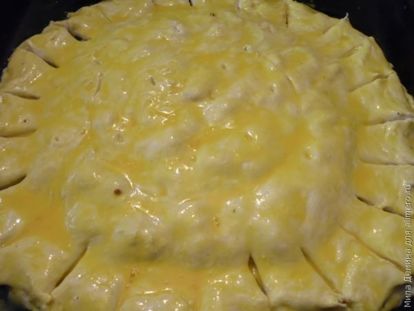 We bake at a temperature of 200 degrees for about 30 minutes.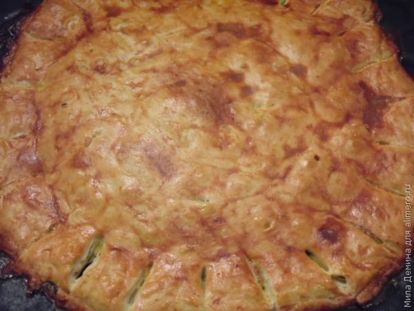 Cut the cake warm, serve to the table, gather the family at the kitchen table!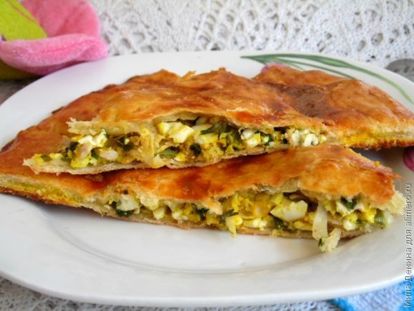 I hope you liked the recipe, bon appetit!