Would you like a fish?)) If yes, let's bake! Lesson is not only delicious, but also very exciting! 😉
I really love baking with canned fish, and just snacks too! Let me remind you what recipes have already shared with you:
I would be glad if something from the above is useful to you! 😉 After all, canned food is quick, tasty and satisfying!
Level of difficulty: if the kneading of yeast dough is usual for you, then the average
Time for preparing: 3 hours and 15 minutes (30 minutes for kneading dough; 1.5 hours for raising the dough and preparing the filling; 40 minutes for molding; 35 minutes for baking)
To test
– milk – 150 ml
– water – 100 ml
– dry yeast – 1.5 tsp.
– eggs – 2 pcs.
– sugar – 1 tsp.
– Salt – 0.75 tsp.
– butter – 100 g
For filling
– sardine in oil / own juice – 250 g
– Onions (large) – 2 pcs.
– Sunflower oil – 2 tbsp.
– Pepper mix – to taste
– salt – pinch
Additionally
– sunflower oil for lubrication form – 2 tbsp.
– dough lubrication egg – 1 pc.
– Pepper allspice for the eye – 1 pc.
Combined milk with water. By tradition, I have cold milk and very warm water. The result is a pleasantly warm fluid temperature, favorable for the yeast, which I sent there.
Also poured a teaspoon of sugar. Mixed and left for 10-15 minutes.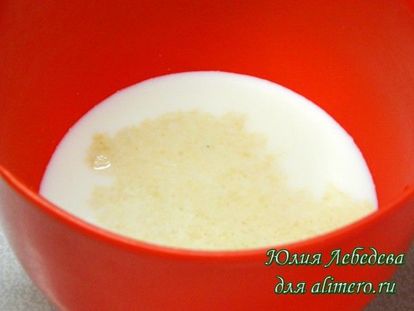 In a separate bowl she put together the eggs with salt and whipped a little.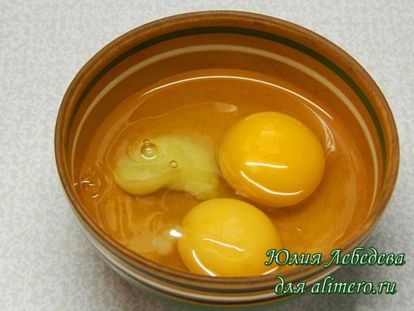 She poured eggs and melted (cooled to room temperature) butter to the approached yeast cap. Stirred with a whisk.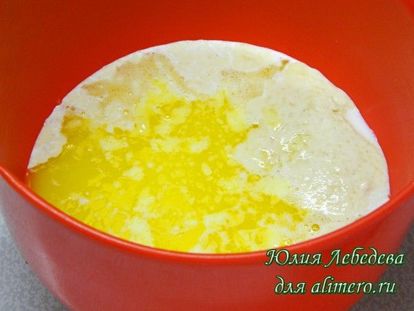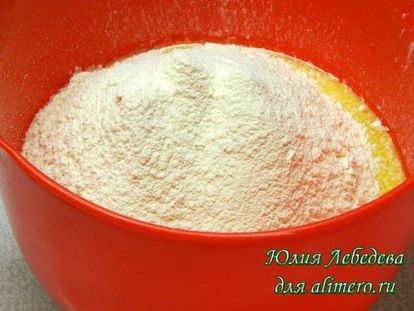 Knead elastic dough. She rolled it into a ball and put it in a place without drafts. After the first climb lowered and waited for the second one.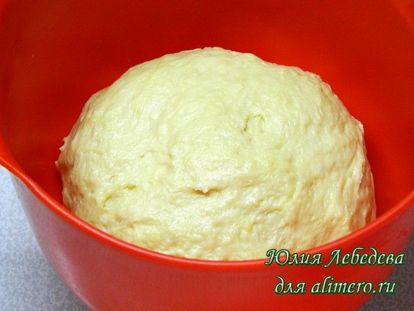 On sunflower oil, spasse onion with a mixture of peppers and a pinch of salt. More salt did not, because canned food is always salty.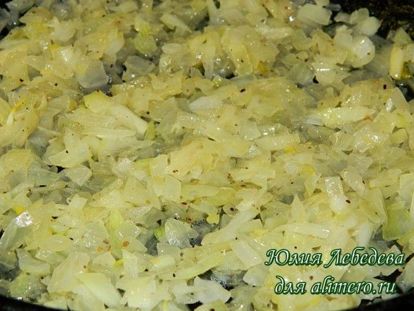 From the sardine leaked excess liquid, kneaded it with a fork directly in a can and laid out to the bow. Mixed and then three or four minutes together.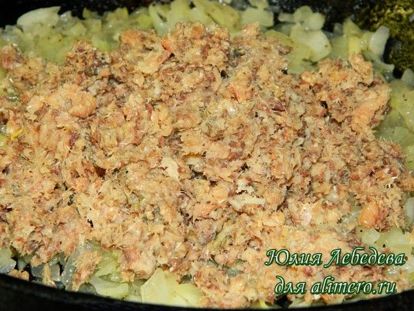 Cutting dough and forming fish:
She waited for the dough to come up a second time.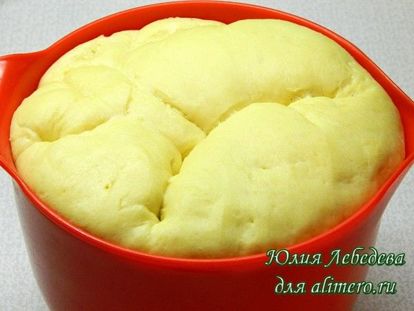 Rolled out of it (took somewhere half or slightly less) layer. Cut out the base of the future fish. Made it just a little knife and no template. If something is wrong, you can always adjust.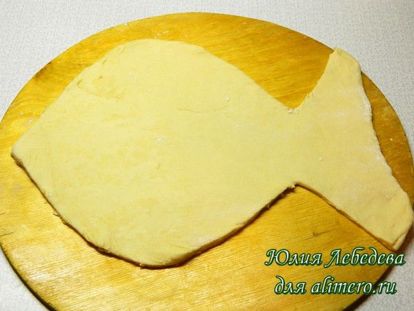 At the same stage, she shifted the workpiece into a lubricated form. Then transfer it would be much more difficult. And it makes no sense – a place on the board is needed for further action.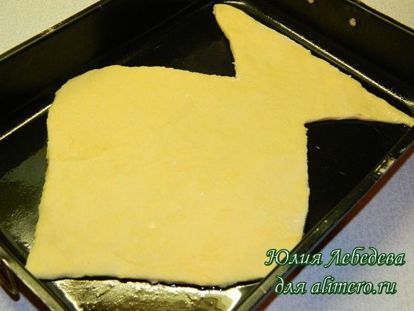 Roll out the next piece of dough. In shape, it is closer to a rectangle with a very long side.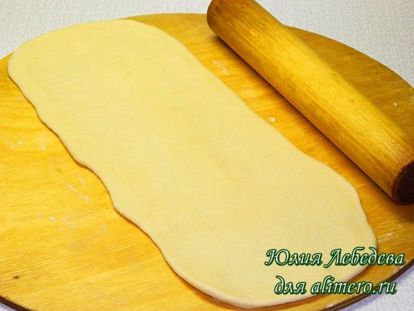 I cut it into several not wide strips.
She laid out these stripes along the contour of the dough blank, which had previously been smeared with a slightly beaten egg (if desired, you can use only the yolk).
I thought and thought, and that the side was higher, laid another layer of strips.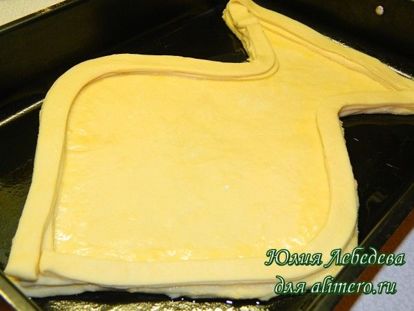 Laid out the stuffing inside the fish and evenly distributed it.
Now I took up the tail)) Cut out such a piece of dough so that it covers the surface from the narrowest point of the fish to the end.
On the contour smeared egg.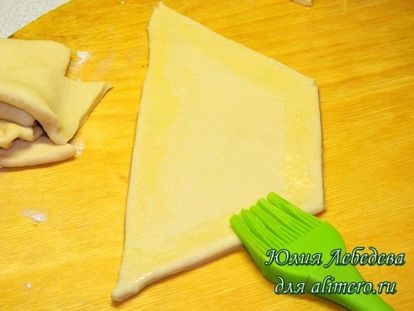 The same is done for the bow of the fish. Laid out these two blanks on the filling, leaving the center open.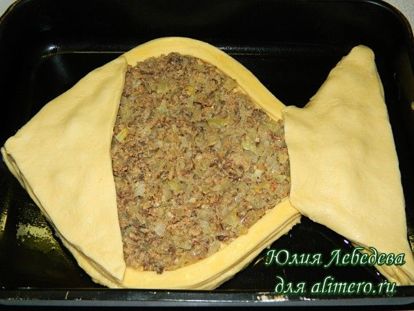 From the remaining dough roll layer. Cut out circles.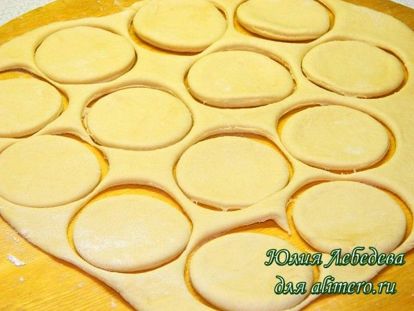 Smeared them with an egg.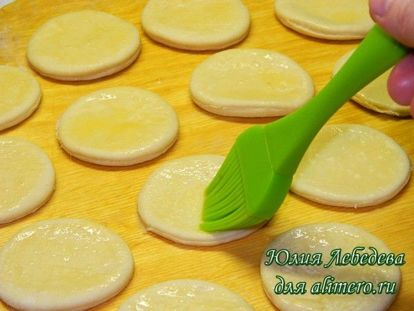 Laid out the circles, closing all the stuffing and placing them overlap.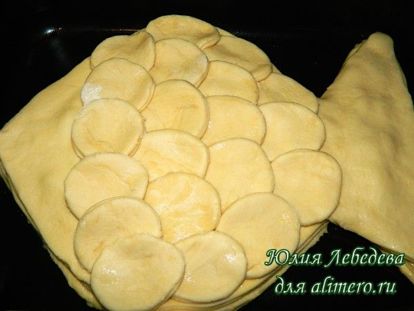 I cut the mouth of a fish with a knife and decorated a pea-scented peppercorn eye.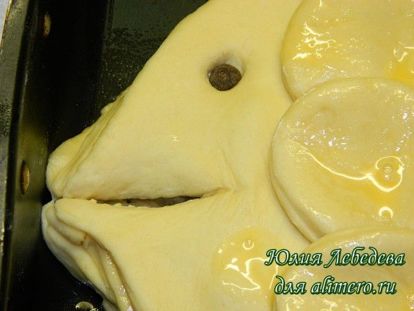 Smeared the whole fish egg.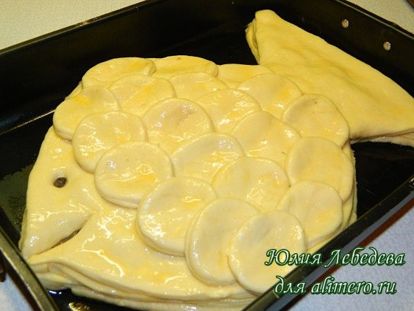 Sent to the preheated 180'C oven for 30-35 minutes to golden blush.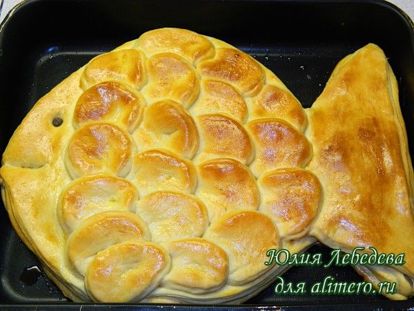 Served on the board … How many huge dishes I have, but not one of my fish fit))
Designed dill – a la algae;)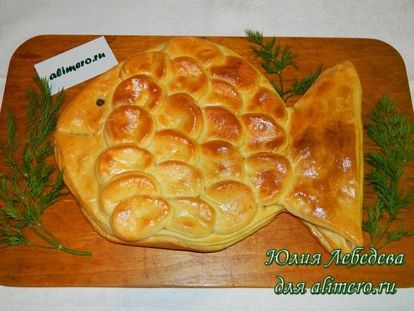 Despite the impressive volumes, we ate it almost in one sitting))