Today I baked an interesting apple pie. It is interesting because the filling is triple, and at the same time very simple. And the taste is matchless!
I have success, I designed and started to drive a child to kindergarten. After 3 days of visiting the garden, the daughter got a cold and cough. I remembered all the recommendations of the doctors, especially with regard to drinking plenty of water, and I try to feed the child as often as possible.
In order to make the process of tea drinking more interesting, I decided to bake my apple pie. But not a simple pie, but with a twist.
Filling in this apple pie are halves of apples, which are stuffed with mandarin and cottage cheese with honey. In other words, the cake is soaked with vitamins and minerals for the speedy recovery of the beloved child.
The dough in the cake is small, but a lot of juicy fruits. Mandarin with apple gave the taste a pleasant sourness, and honey – soft sweetness. Very pleasant to taste turned out cake.
Difficulty of preparation: medium
Cooking time: 1.5 hours
In order to make a cake with apples, we need:
For the test:
For filling:
– apples – 6 pcs.
– Mandarin – 1 pc.
– cottage cheese –100 g
– cream or sour cream –100 g
– honey – 1 tsp. with slide
Heat the milk to 40 degrees (approximately). Put in milk, butter and sugar. Add the yeast and wait 7-10 minutes until they begin to active.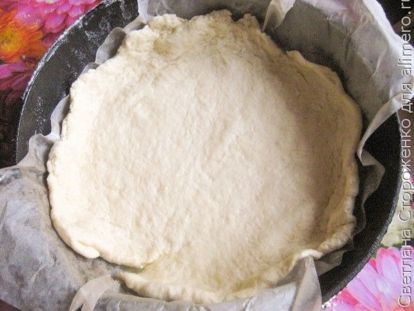 In the cleaned middle of the half of the apple, we put a spoonful of cottage cheese filling or a slice of mandarin.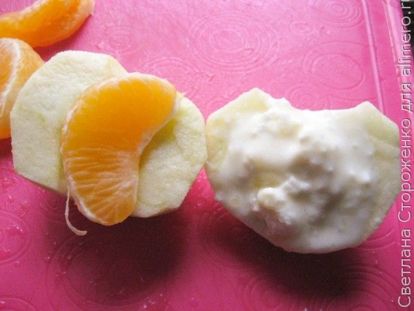 Place the halves of apples with the filling on the dough. As you noticed, we make it stuffed down.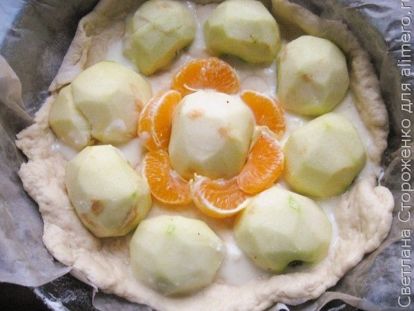 Then from the rest of the dough we form another circle, this time with the diameter of our form. We cover our cake. We pinch the edges.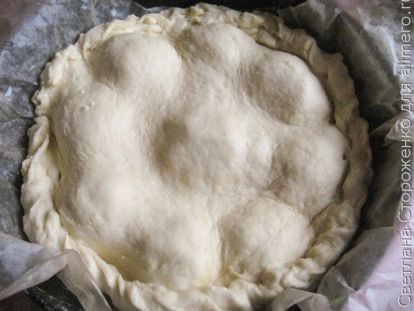 At will we grease with beaten egg or sweet milk. And put in the oven for 30 minutes at a temperature of 180-190 degrees.
Here is a pie we got.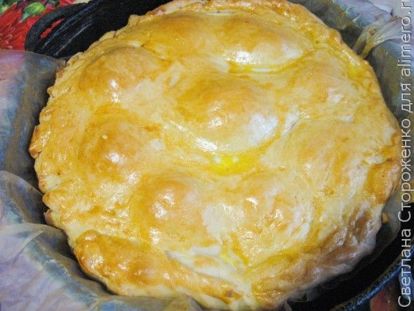 I recommend giving it a little cool, then the juice from the filling will have time to soak into the dough and it will become just divine.
Enjoy your tea and good health!