What to cook from pasta and stew? Everything is tried like. And the most simple recipes for cooking pasta with stew are known. All, but not all. There is a great way to diversify the menu of the family.
First, you can buy not just macaroni, but cheerful colors. Secondly, you can add vegetables that are very fond of your home. And finally, you can cook everything even in one pot, if you want. But you, too, probably love something like that? So let's cook!
What to consider when cooking pasta with stew and vegetables? Variety of pasta – so that they were made from the highest grades. Stew – it is desirable to take beef, but if you get a normal pork in all respects, then we will not disdain it. And yet – study the instructions, so as not to take one soy protein – such canned food is cheaper in price. So, cook.
Time for preparing: for the preparation of products – 5-10 minutes, for cooking and frying – 15-20
Cooking

I usually first prepare all the ingredients and put water on the fire – for cooking.
Then open the stew. It should be crushed right in the bank so that it falls out not in a piece.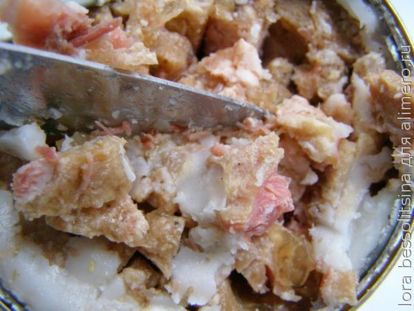 Separate the pasta.

And, putting the pan on the fire, doing the cutting of vegetables, which are participating this time in cooking.
First we cut the carrot. This bright ingredient will make a tastier and more beautiful dish.