Primavera translates from Italian – spring. Pasta Primavera spring bright dish! The abundance of seasonal vegetables makes pasta light and colorful.
There are no strict rules in this recipe, use any available vegetables. It is better if they are of a contrasting color. Green peas, green beans, zucchini, zucchini, red and yellow bell peppers, orange carrots. You can add broccoli or Brussels sprouts, mushrooms, etc. From meat it is better to take chicken or turkey.
To prepare the Primavera paste, prepare the necessary products: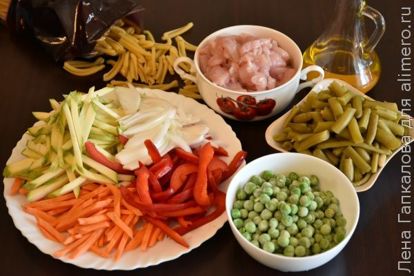 Degree of difficulty: easy
Time for preparing: 20 minutes
Let's cook at the same time meat and vegetable component and paste. Therefore, put a pot of salted water for pasta on the fire and prepare the vegetables. When the water boils, pour the paste and cook it according to the instructions on the package.
Vegetables can be grated on a special grater, I prefer to cut them into cubes with a knife. The shape of cutting vegetables may be different.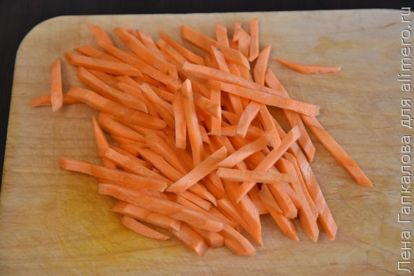 Cut the courgette into cubes.