Spaghetti with fragrant sauce straight from the reserved Italy!
Back in 2008, my husband and I first visited Evpatoria. There, walking along the embankments and old narrow streets, we came across a cozy, small literary cafe, Anna Akhmatova.
We liked it immediately by the interesting design and mouth-watering cakes on display in the shop windows. But we did not manage to have a bite there: all the tables were occupied or booked, and we left with nothing, having decided to stop by another time.
Unfortunately, the vacation came to an end, and our plans remained unfulfilled. However, six years later, we again visited this ancient city. We wandered through the Old Town, went to the Karaite kenates and returned to Anna Akhmatova.
Under the light sounds of the piano of respectable years we were served by friendly waitresses. Everything was insanely delicious! A decoration of dishes could envy a good restaurant.
Carbonara was on top! Especially because I have not tried it before.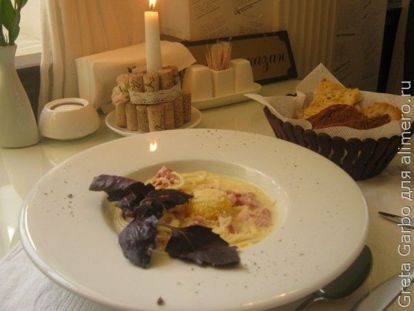 And she sunk into my soul so much that I could not get rid of the desire to cook it at home on my return from a trip. Moreover, everything turned out to be easier nowhere!
Of all the recipes offered in the network, I chose the most budget and easy to perform. Since then carbonara is a frequent guest in our kitchen. Frequent – and darling!