I have already written more than once in recipes that I love Italian pasta! Today I had pasta carbonara for lunch. In the original, this recipe is made with spaghetti, but I love pasta in the form of fettuccine or tagliatelle (flat wide or narrow noodles) so much that I made this pasta with such noodles.
It is very simple to prepare it – even the beginning hostess will cope, and the result will surpass all expectations!
Cooking time – 25-30 minutes
The difficulty is minimal
Ingredients (for 4 servings):
durum wheat pasta – 400 gr
bacon or bacon – 200 g
garlic – 2-3 cloves
4 yolks
cream 10% fat – 350-400 ml
Parmesan cheese –
100-150 gr (for sprinkling)
olive oil
flour – pinch
Put boiled water for pasta. When the water boiled, they salted the water and added 1 tablespoon of vegetable oil.
Boiled the pasta for the time indicated on the package (I usually cook less for a minute – the pasta still comes while it is hot). I threw it on a colander, sprinkled with olive oil and stirred so as not to stick together (not washed).
Chopped bacon or bacon into pieces, chopped garlic.

While the brisket roasted, in a pot that could be heated, beat the yolks with a mixer.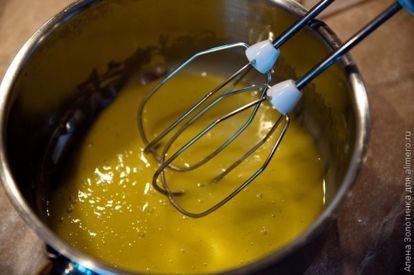 She added cream and continued to beat. Salt did not add, since my breast was quite salty.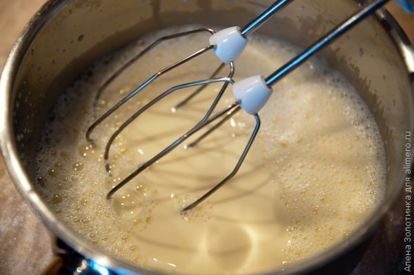 Put to heat the mixture, but did not bring to a boil. When the mixture warmed up, poured it into the pan to the brisket, and brought to a gentle boil over low heat, stirring constantly. As soon as the sauce began to boil, turned it off.
Pasta put in the sauce and mixed. Put the pasta in a portion plate and sprinkle with cheese on top.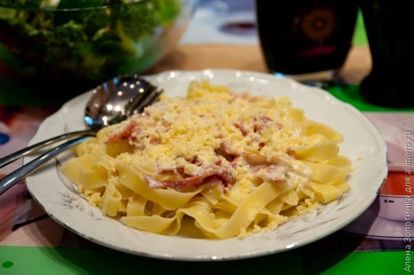 I served balsamic vinegar and olive oil to the paste, which everyone added to his plate to taste.