I have cooked vegetarian pasta Bolognese in a slow cooker, and shared the recipe with you. This time I added some minced chicken hearts during cooking. It turned out a gorgeous dish, but, as always, to judge you.
The only thing I want to note is that men will like this version of Bolognese pasta more, as it has meat products. My husband was happy to eat vegetarian pasta, but this time he asked for more additives, and then he praised for a long time and asked him to cook this snack.
Inspired by the praise of men, I thought about the fact that the kitchen had spent nothing at all – half an hour. During this time I did not have time to get tired of cooking and enjoyed my beloved one. Even a child who has problems with appetite gladly ate his portion of dinner. It turns out that women's work is not so difficult, and even very pleasant.
To cook pasta Bolognese with minced meat in a slow cooker, you need the following products: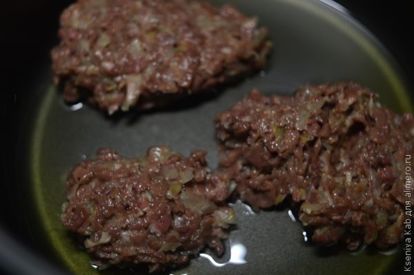 Meanwhile, cut the second half of the onion into cubes. We send onions to roast minced.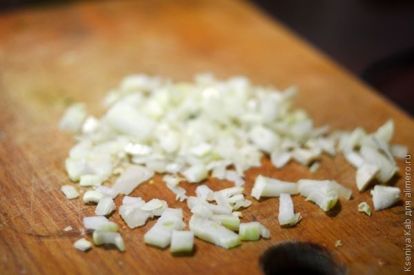 10 minutes have passed? Pour water and tomato puree into the multicooker bowl and wait for boiling on the Frying program. At this point salt the tomato mass, pepper, add sugar, spices, herbs and black pepper to taste.


Immediately throw in the bowl of spaghetti (it is more convenient to break them in half). Cover the multi close. After the beep, open the lid and cook the pasta for 8 minutes with the lid open. During cooking, you can mix spaghetti 2-3 times.
If durum wheat spaghetti is used, then it is better to close the slow cooker after a beep about the end of cooking, and let the paste rest for 5-10 minutes. During this time, it is saturated with tastes and smells and will become even tastier.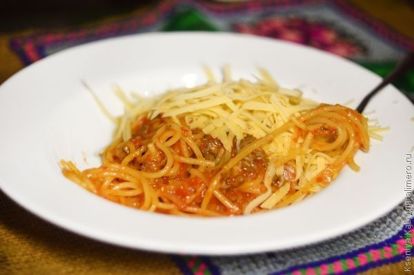 Pasta served in the form of heat, abundant sprinkling with grated hard cheese.