Dedicated to all lovers, admirers and fans of pumpkins! 😉
Once again, I thought about the perennial question, what would such a sweet, but not very bad cook. My thoughts stubbornly stopped on the pumpkin, then on the apples. Without deciding what I want more, I decided to combine healthy products and bake fritters;)
They turned out lush and unusually tasty – with a taste of pumpkin. Just at the moment when I was preparing them, my dad came to visit. It was then that I realized who I was so sweet about;) In general, Dad ate more than half and I regretted that I didn't cook twice as much dough. I'm sure you will like them too 🙂
Time for preparing – about 1 hour
For the preparation we need the following products:
Apples – 3 pieces
Pumpkin – 1/4 part (provided that the pumpkin is small)
Oatmeal –1 glass
Chicken eggs – 2 pieces
Soda – 1/3 tsp. vinegar quenched
Cooking oil for frying
Start cooking

First of all we rub apples on a fine grater.

We drive eggs.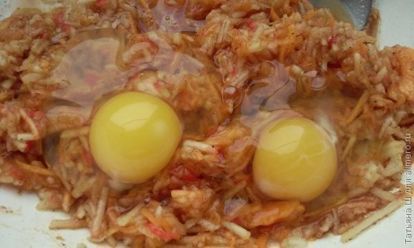 Now it is the turn of oatmeal.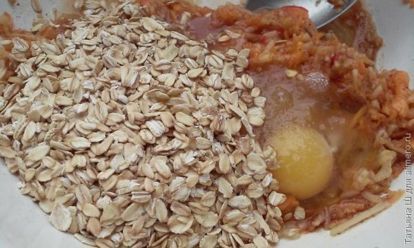 Then kefir and mix everything well. We leave for half an hour to the flakes soaked with juice and swell.
After 30 minutes, add flour and soda, which we quench with vinegar (I quench apple).
The board: do not pour out the flour all at once – you need to look at the consistency – the dough should not be liquid, but not too thick.
Put a spoon on a hot pan, greased with vegetable oil. Fry on both sides over medium heat until golden brown.
You can serve such pancakes with sour cream, jam, honey and even condensed milk.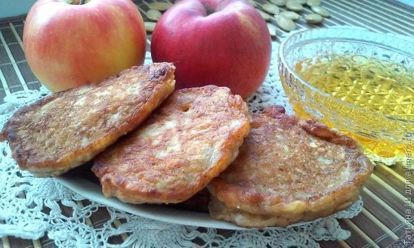 As you noticed, there is cinnamon in the recipe. Honestly, I do not really love her, but the combination of apple-pumpkin-cinnamon is just extraordinary! From the pancakes do not really break away;)